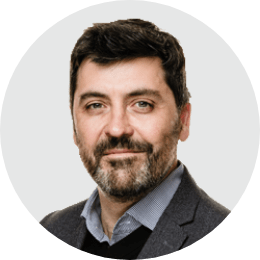 Marc Fischli
Chief Client Officer
Marc is an expert in international business strategy who has dedicated his career to helping retailers and brands drive sustainable growth through adopting and implementing customer-centric strategies. As Chief Client Officer, Marc is responsible for dunnhumby's global commercial and client operations teams across 47 offices in 27 countries throughout Asia-Pacific, EMEA, and the Americas.
Having joined dunnhumby in 2007 as Head of Global Client Development, Marc went on to launch and lead dunnhumby's Canadian and French business units, expanding dunnhumby's global footprint helping retailers put the customer at the heart of their business.
Experience
With more than 20 years' retail and CPG experience, Marc has led customer-focused expansion projects in both emerging and mature markets for some of the world's most sophisticated and respected companies – including Tesco, 7&i, Shoprite, China Resource Vanguard, Metro Canada, Groupe Casino and Diageo. He played an instrumental role in the expansion and launch of Tesco's operating model in China, Japan, Turkey, and the US. He was General Manager for two of Diageo's country business units (France and Poland), and has led strategy development and execution in Asia and Europe for Diageo's Global Strategy Team.
What do you see as the game changing developments for Customer Data Science?
"Two key trends I see which will shape how retailers win or lose in the future, are firstly the move to real time analysis (having data available instantly, with immediate insights through machine learning) and secondly the move from descriptive to predictive and prescriptive insights, giving a view of the potential outcome of actions."
Qualifications
MBA, London Business School
Ready to get started?
Get in touch and discover how we can help you succeed by putting your customers first.
Contact us