The Covid-19 pandemic has changed the operational model for some organisations overnight. Pureplay brick and mortar grocery retailers are acknowledging the stark reality of customers preferring to order online rather than visiting physical stores. Unlike the online players who are rooted in data and predictive science for both marketing and supply chain operations, many traditional grocery retailers have a lot of ground to cover.
Many retailers who earlier had a 'wait and watch' approach' towards adopting online business models are hoping now to accelerate their investments in digital channels. Panera, a US based chain of cafés, conceptualised and launched an online grocery delivery service within two weeks during the early days of the Covid-19 crisis. The interesting ploy in this service is that the Customers can order meals along with groceries in the same basket1. Several of our own retail clients in EMEA and Latam have launched digital offerings during the Covid-19 pandemic with encouraging customer feedback.
We anticipate that e-commerce penetration in grocery will settle at around two to three times the pre-Covid-19 level, limited more by retailer capacity than by customer demand. Retailers such as Tesco have done well to expand their online shopping capacity to more than 1.3 million orders per week, more than double the number of slots available before the Covid-19 outbreak2.
Emerging demand-side dynamics
Customers are increasingly getting more familiar with ordering groceries through online channels. This, coupled with safety and health concerns, will result in the following demand-side dynamics:
Changes in customer behaviour are going to be more permanent. This implies that omni-channel retailing in grocery sector is here to stay.
Customers will develop strong trust in a few retailers based on their experience with their service during this crisis.
Customers' expectations from retailers for personalisation will become more pervasive. Winning companies of tomorrow will exceed customer expectations by leveraging data to their best advantage.
With a surge in adoption of digital channels (such as mobile applications) and sign-ups from new customers, grocery retailers with and without pre-existing loyalty schemes will have more data in their hands, which can be leveraged to personalise customer journeys.
However, unlike digital native companies such as Amazon and Instacart, not all grocery retailers have the core competence and in-house capabilities to optimise their marketing investments using data. The marketing playbook of the start-up world has a useful framework to help grocery retailers compete.
How do successful digital start-ups approach marketing?
Growth Hacking is a marketing approach aimed at unlocking growth at scale, founded on a set of tactics and best practices for facilitating user growth. This approach to scaling a business is built upon the foundations of setting up cross-functional teams with skills in marketing, data analysis, coding and lean principles to answer the following key questions:
How do I get more users/Customers?
How do I activate more of my Customers?
How do I measure the effectiveness of my new features?
How do I increase the lifetime value of my Customers?
How do I reduce churn rate?
Given the ongoing Covid-19 situation, with shoppers limiting the number of stores they visit, retailers will need to take strong action to retain new shoppers and regain lost customers. Maintaining and growing the share of wallet of their best customers is a prudent strategy.
This is done by optimising investment through the customer lifecycle stages of acquisition, activation, retention, and monetisation. The approach is rooted in data, built on the foundations of learning from customer behaviour, and making timely and proactive marketing interventions to lead a customer towards desired outcomes.
How can grocery retailers adapt to a data-driven marketing approach?
As marketing spend shifts from above-the-line marketing (mass marketing to build brand awareness) to below-the-line marketing (targeted and customer-centric), and with retailers having more Customer data, this is a unique opportunity for retailers to incorporate some of the principles from growth hacking in their marketing approach.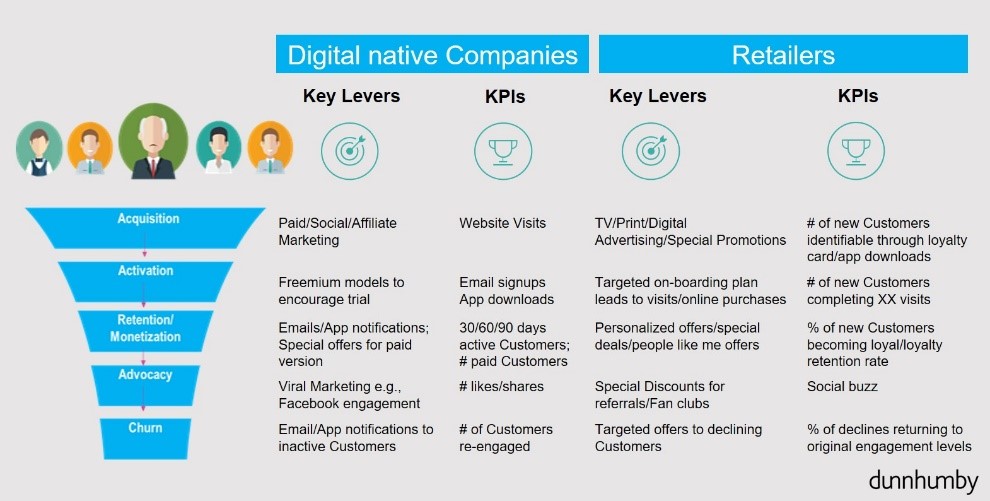 We have helped our retail clients launch propositions at different stages of the Customer lifecycle, using data science to optimise the experience. Here are some key examples:
a) Launching new on-boarding programs where Customers receive a series of offers to drive more visits. As we collect more data, we can personalise and refine the customer experience using predictive models
b) Identifying Customers' latent needs through our acquisition science models which help analyse transactional behaviour of other Customers like them
c) Retaining loyal customers with a high probability to churn by deploying propensity-to-churn models which can help retailers make timely interventions
Using data science to answer key questions
Retailers will have to leverage data and analytics to answer the following key questions as the pandemic plays out in different phases across countries:
What are the drivers of our most loyal Customers and how do we use this information to keep them engaged?
What is the expected headroom of regular Customers who are not loyal yet? How can we leverage predictive analytics to identify cross-sell and up-sell opportunities?
How many new Customers have we gained during the pandemic, and how do we use personalised marketing interventions to help them become loyal Customers?
How do we use data and predictive models to identify the categories they are most likely to spend more in or start spending in with us?
Can we predict, based on behavioural data, which Customers we might lose and proactively take steps to prevent them from churning?
Utilising machine learning predictive models to determine answers to these questions will provide a lens on Customer behaviour, supported by data, to help retailers optimise their marketing spend. And given the fast-changing industry dynamics, an analytics-based approach to winning and keeping Customers during and beyond the pandemic is an essential competitive advantage for those retailers who are willing to embrace it.
---
[1] McKinsey Report (2020), Adapting to the next normal in retail: The customer experience imperative.
[2] City A.M. (2020), Tesco expands online order capacity to 1mn slots a week during coronavirus crisis.
Insights
The latest insights from our experts around the world