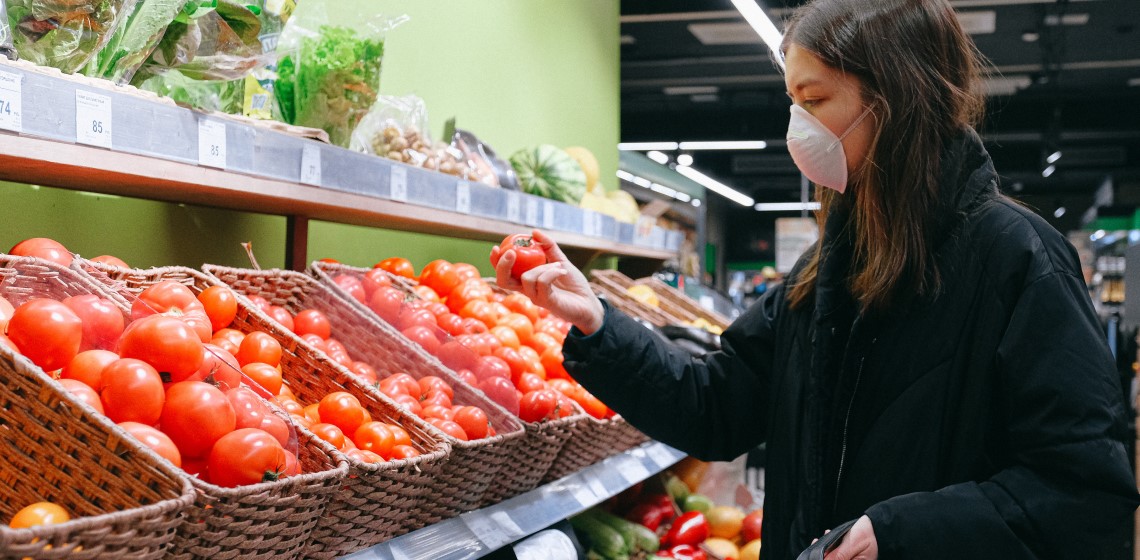 In March 2020, dunnhumby launched the first of its Customer Pulse studies. A research programme designed to keep track of changes to consumer behaviours in the wake of Covid-19, three subsequent Customer Pulse surveys followed, each exploring the latest trends from the global Grocery Retail industry.
Since the publication of the most recent study in September, much has changed. Infection rates have surged, new restrictions have been introduced, and economies have continued to falter. More positively, successful clinical trials across the world have offered the first sparks of hope that an effective vaccine could soon be introduced – a promise that looks set to become a reality in the early months of 2021.
With the situation continuing to evolve, a fifth wave of research was conducted at the end of November. Here, as many parts of the world prepare for the holiday season, we explore the results of that latest study – charting Covid-19's continuing impact and the long-term trends that will influence shopping behaviour well into the new year.
The resurgence of Covid-19 has driven a change in behaviours, but not a dramatic one
One of the primary issues that the Customer Pulse has focused on over the past nine months is the overall global attitude towards the pandemic. Expressed in the form of a "Worry Index", this datapoint reflects the extent to which consumers say they are concerned about the spread of the pandemic.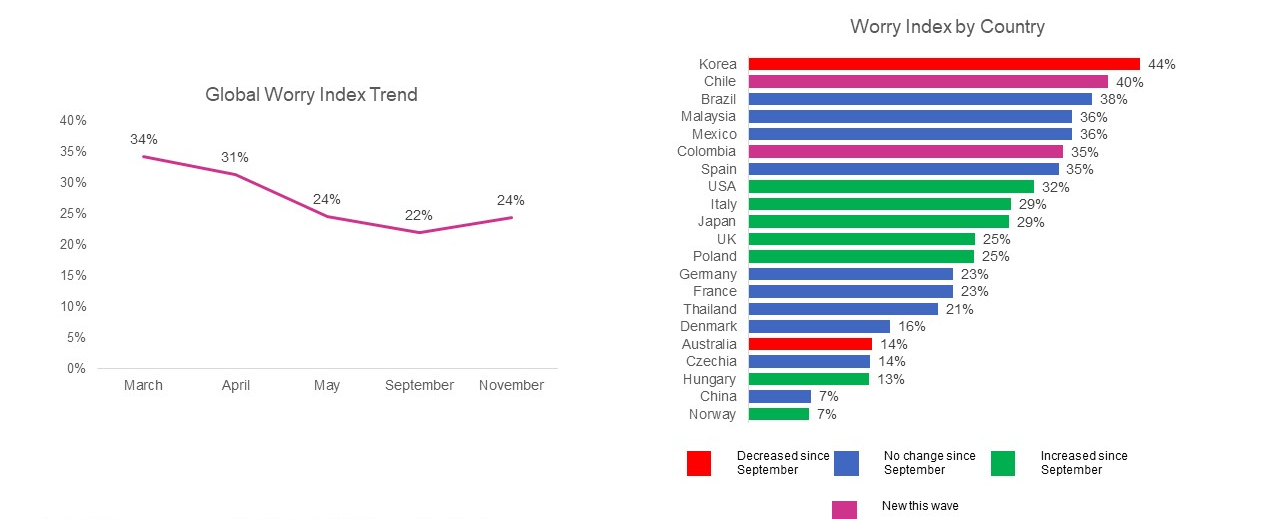 This figure, which has been trending downwards since March, rises again for the first time in this fifth wave of research. Shoppers now demonstrate the same degree of worry about Covid-19 as they did back in May. And as levels of concern have risen, so too have preventative measures; social distancing, hand washing, and mask wearing have all risen since September, as has support for the closure of leisure venues. Importantly, however, worries remain far below that seen in either our March or April studies.
Elsewhere, a sense of stability seems to have emerged. The surge in online shopping continues apace, accounting for more than a quarter of all grocery trips; use of digital channels for grocery is particularly pronounced in Asian markets. Shoppers continue to make fewer trips to fewer stores and, in spite of the reintroduction of quarantine measures in many countries, there is little evidence of the kind of panic buying witnessed in the early days of the pandemic.
A very different holiday season
With Chinese New Year, Hanukkah, Christmas, Kwanzaa and other festivities taking place over the next few months, a great deal of discussion has centred on consumer attitudes towards those holidays in the face of continued uncertainty.
Broadly, we see a small decline in the number of people planning to celebrate the holidays this year. The exception here is China, where – thanks to a significant reduction in the spread of the virus over the past 12 months – more people say that they plan to honour the occasion.
For those who intend to hold with tradition, smaller and more reserved activities are in order. Consumers say that their gatherings will involve fewer people (something that has of course been mandated in many locations), and many will be spending less on food and gifts as well.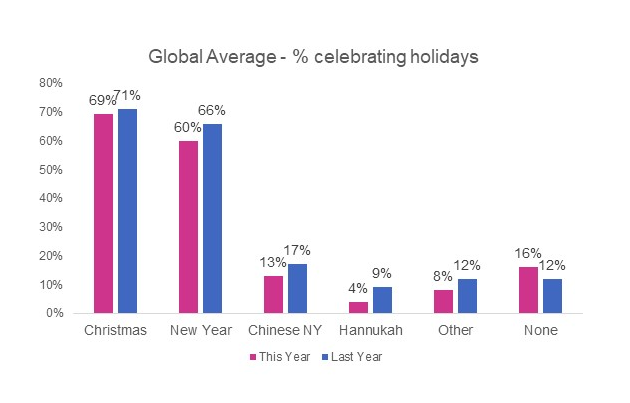 While the decline in food spending may be a consequence of smaller gatherings in some instances, we also see clear evidence that frugality is on the rise; even amongst those entertaining more guests than last year, two-thirds will spend the same or less on doing so.
Echoing one of the most significant Retail trends of the year, online grocery will play a major role in food shopping for this year's holidays. Well over half (57%) of those surveyed said that they will be using digital channels to buy food, with a third (29%) saying that they plan to do no food shopping in store this year. While gift shopping overall may be in decline, four-in-10 (41%) say that they will buy more presents via digital channels than they did last year.
Importantly, worries about Covid-19 are the primary driver behind these changing behaviours. While significant numbers point to financial difficulties and government restrictions as a factor behind their responses, personal concern about the virus remains the strongest catalyst for this very different holiday season.
Adapting to an uncertain economic future
In our September study, we identified three trends that have begun to increase financial pressure on consumers.
Many people feel they are spending more on food than before the pandemic. Home working and a reduction in out-of-home choices are helping to drive this.
There is widespread belief that food prices have begun to rise. Whether perceived or actual, this has major implications for Retailers and Suppliers.
And economic confidence has begun to dwindle at both a national and personal level.
There is little evidence to suggest that these concerns have abated since September. Around a third (35%) continue to say that they are spending more on groceries than they were pre-pandemic, with a similar number (37%) maintaining that prices have increased. These results track closely with those seen in our previous study.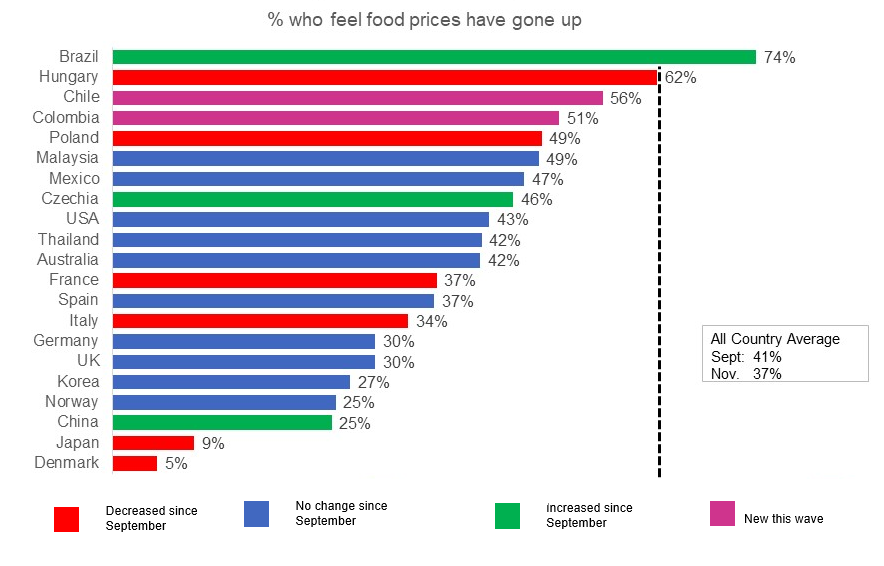 A very slight rise in optimism towards the state of the economy is driven primarily by Asian territories. Respondents from Japan, Korea, Thailand, and Malaysia are more likely to demonstrate confidence about their financial future.
Shopper reactions to these financial concerns remain broadly the same as highlighted in our earlier studies, with some notable exceptions. Everyday low pricing and coupon usage remain popular, but the pursuit of rock-bottom pricing above all has fallen; just over a quarter (28%) now say they are buying the cheapest products, significantly less than in September (41%).
Responding to new Customer needs
The most recent study also shows the trust customers have in their grocery stores, with them tending to trust their supermarket (46%) more than their government (29%) in their handling the pandemic.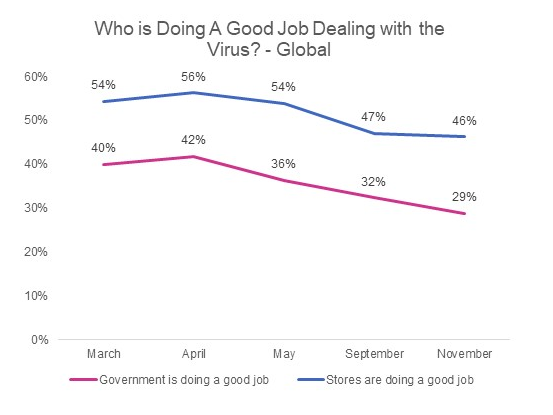 It is remarkable how well retailers have managed. We noted in earlier studies how retailers had to balance the needs of those who were particularly concerned about safety in store versus those who thought it was overdone. Couple that with the uncertainty around the resurgence of Covid-19 and the holiday seasons, and it presents a real challenge.
But grocery retailers have undoubtedly stepped up during the pandemic, and the trust shown in them is a testament to this. However, this should not be taken for granted, and although we see some degree of stability between our September and November studies, Retailers still face numerous challenges when seeking to address new and changing Customer needs.
Health and safety are a rising concern, and must be addressed as a priority. Levels of worry may not have returned to those seen at the start of the pandemic, but Customers must still feel safe and protected while shopping.
The continued focus on low pricing and value is indicative of a wider shift towards more economically-driven shopping. Retailers must be ready for a future in which value – both perceived and actual – is a deciding factor for the majority of shoppers.
Demand for online grocery has not dwindled, and Retailers must step up to meet it. Significant spikes should be expected – and catered for – as the holiday season continues.
Insights
The latest insights from our experts around the world