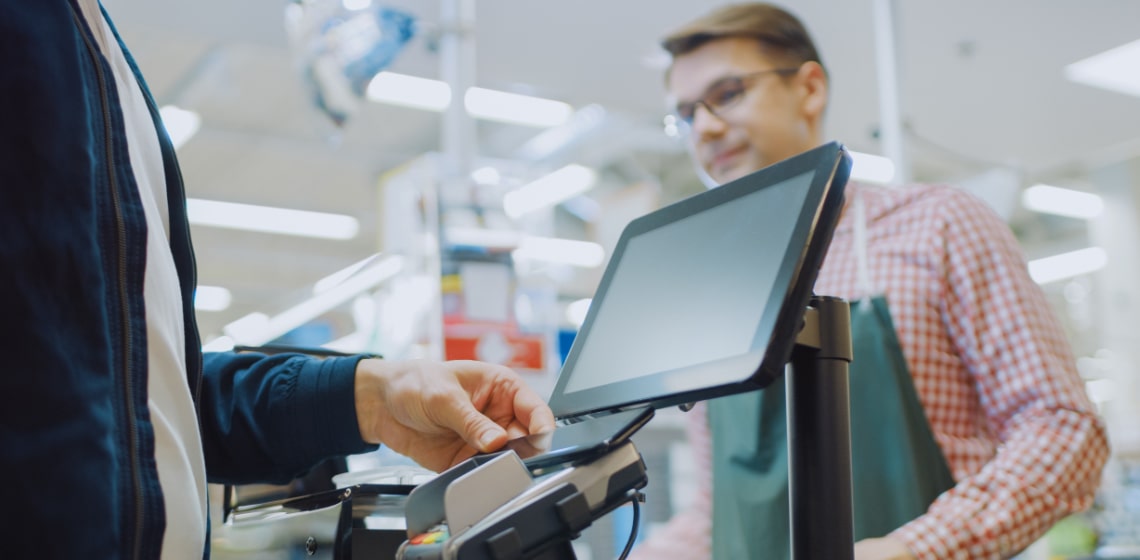 Coronavirus has had significant impact on the shopping attitudes and habits of consumers. To better understand how these are changing, we've conducted two waves of research. The first wave was completed the first weekend of April and the second two weeks later. The study, conducted with consumers across 19 countries, led us to three key observations:
Customer shopping patterns are changing. Most are shopping at fewer stores (although some say they are shopping at new stores), are making fewer visits, are buying more items per visit, and spending more on groceries overall. People are also quite worried about their personal finances – indicating that shoppers are looking for value on their spend.

Our hypothesis: A new value wave is here.
While stores are seen as doing a good job of dealing with the pandemic, this may be at the expense of customer satisfaction. Satisfaction with online shopping experiences is higher than with those in-store, and there is an increase in customers shopping online.

Our hypothesis: We have reached a tipping point for online shopping.
A 'worrier' shopper segment acts as a bellwether to give insights into changing consumer needs and behaviours.

Our hypothesis: We can observe this group over time to anticipate changes in consumption and channel use.
Deep Dive – The Trade-off Between Safety & Satisfaction
One of the more intriguing findings was a balance between keeping customers safe while they are shopping and making that shopping experience a satisfying one.
An example of this is the contrast between Norway and the United Kingdom (UK). Both are in the top tier of countries where customers agree that grocers are doing a good job of dealing with the virus (UK = 66%, Norway = 75%, all country average = 54%) yet Norway has the highest level of net satisfaction [1] (31% in the first wave), and the UK has the lowest (-10% in the first wave) with their in-store shopping experiences in that week (early April). In fact, across all countries, people who believe stores are doing a good job of dealing with the virus are no more satisfied with their shopping experiences than those who do not. A key lesson learned is that even if stores are taking actions to keep their customers safe, it does not mean that customers are kept happy. How can you do both?
There are a lot of actions that Retailers can take to help keep the customer safe in the store. And they are not all created equal in terms of how they impact satisfaction. Let's examine this by looking at the differences between customers who are satisfied, those who are not and their awareness of which changes they have noticed in the store. Not surprisingly, a key one is out-of-stocks with those noting out-of-stocks appearing less satisfied.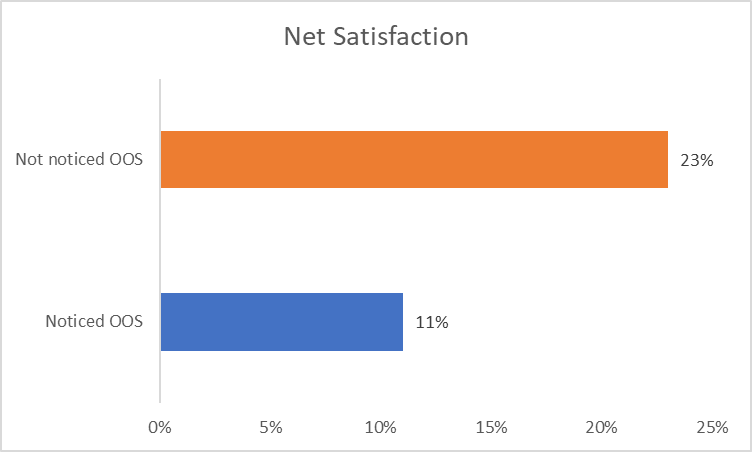 While out-of-stocks are not completely within the Retailer's control, they are one of the, if not the biggest, contributor to low satisfaction. Few customers blame the store for out-of-stocks, yet the store is paying at least a temporary price with lower satisfaction.
Who is to blame for out-of-stocks [2]
Other customers
54%
The company that makes the products
21%
The store
20%
No blame
26%
Two of the other key drivers of dissatisfaction are more within the Retailer's control: raising prices on virus-related items and placing quantity limits. Both have negative impacts on satisfaction.
The irony is that quantity limits were put in place to ease out-of-stock issues, but that fact doesn't make customers any happier.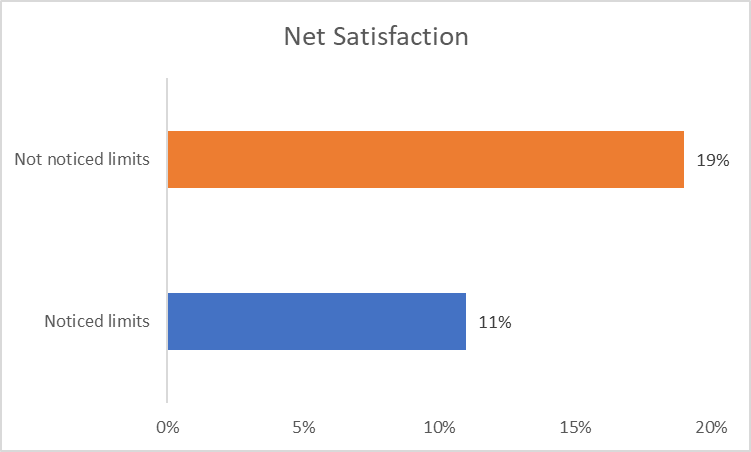 While only about a third of the people across all countries have noticed price increases, it has impacted their satisfaction.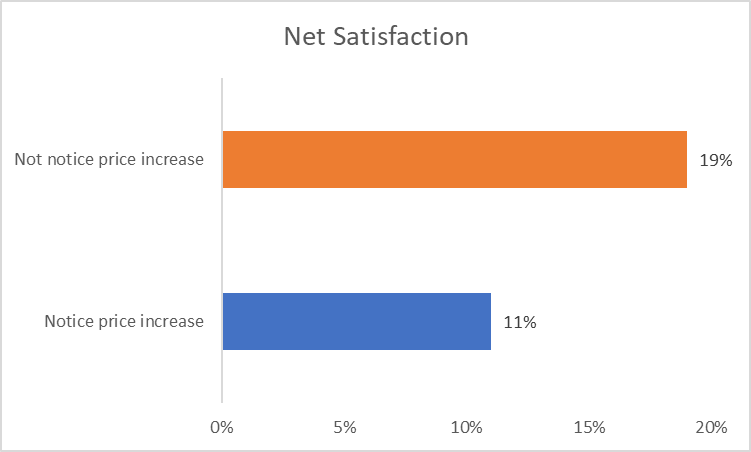 The issue of price and its impact on satisfaction is not a surprise, however at the same time, it is a watch-out to Retailers that consumers are noticing and reacting to these increases.
Of concern is the group of people that we have designated as the "worry" group (due to their heightened concern about the virus.) These individuals are more likely to notice all three of these practices and show much lower satisfaction with their in-store shopping experiences. To the extent that this group is a bellwether – that as the concern around the virus grows, their attitudes and behaviour will become more common – then store satisfaction may decline even more. These people currently make up about 1/3 of all people in our surveys.
% Noticing this action
Worried Group
Others
Difference
Raise prices on items related to virus
45%
29%
16%
Out of stocks
69%
54%
15%
Quantity limits
52%
39%
12%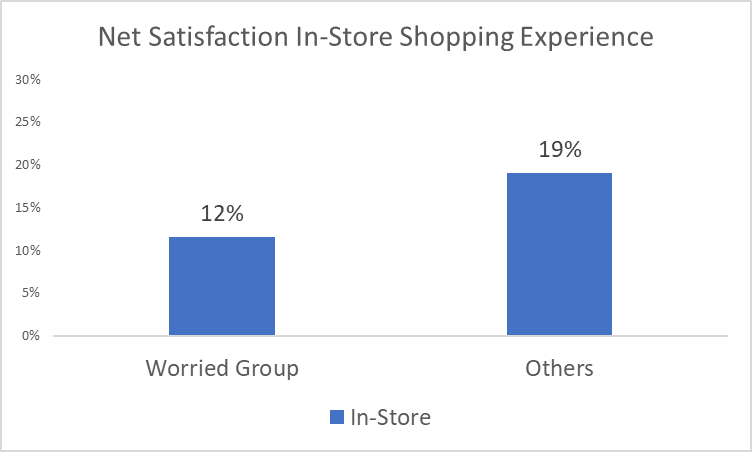 Fortunately, several of the actions available to a Retailer in deciding how to address the virus, do have a positive impact on satisfaction. These include no delivery charges for some or all customers, special discounts on virus-related products (the opposite of price increases) and cleaning the store more often. These three results are associated with the biggest lift in satisfaction of all the actions we explored. However, the first two of these seem to be rare.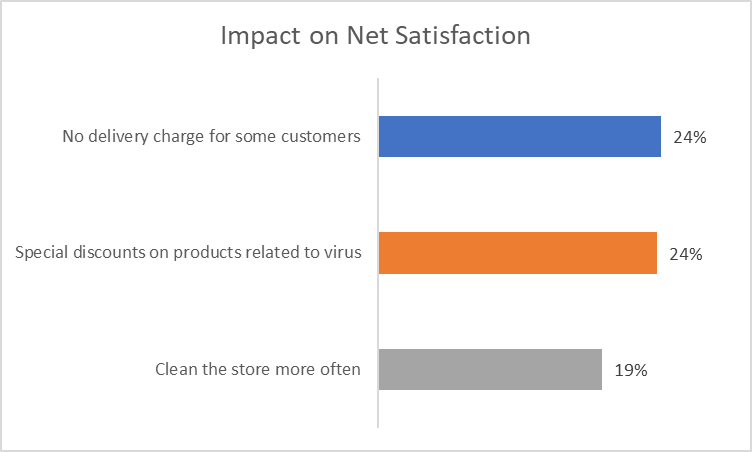 How does this relate back to our original question around the differences between the UK and Norway? Rather strongly, as the negative actions are more prevalent in the UK, while positive actions are more prevalent in Norway:
% Noticing action –
Norway
% Noticing action –
United Kingdom
Positive Drivers
No delivery charges
15%
4%
Special discounts
4%
2%
Clean the store more often
62%
30%
Negative Drivers
Out of stocks
40%
85%
Quantity limits
26%
86%
Raising prices
12%
20%
One piece of good news for the UK retail community – while shopping satisfaction was quite low in our first wave, it bounced back by mid-April, particularly for online.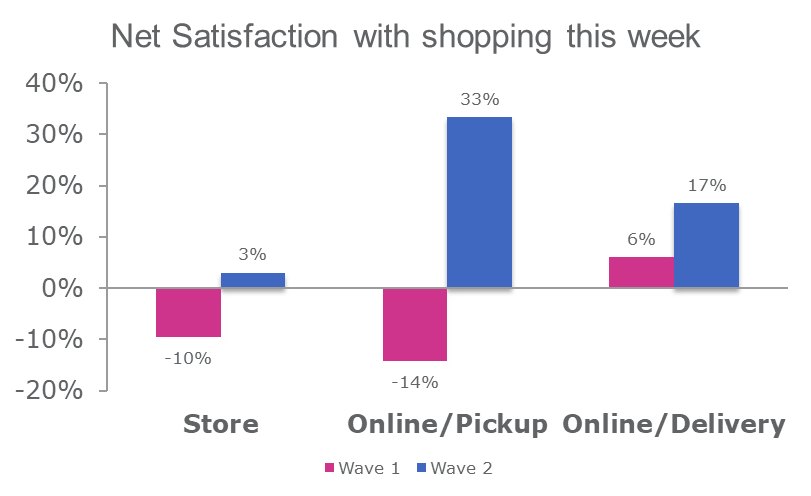 Comparing the results of the first two waves of this project shows some interesting trends. Overall, the Worry Score went down for more countries (9) than up (3). In those countries where Worry declined, we saw people were less likely to take preventative measures (e.g., washing hands, practicing social distancing) while they were more likely to do so in countries where Worry went up. More importantly, in the countries with a decline in Worry, people tended to be less likely to think retailer actions to combat the virus were necessary, while in countries where it increased, they were more likely. These changes in attitudes – while relatively small – occurred within two weeks.
Declining markets –
Is action necessary?
Increasing markets –
Is action necessary?
Reduce hours
-9%
-2%
Fewer employees in fresh departments
-4%
1%
Special hours for some customers
-8%
2%
No delivery charges for some/all customers
-1%
6%
No samples
-5%
3%
Clean store more often
-2%
2%
Average across all
-3%
2%
These findings further highlight the challenges retailers will have as we move forward. As concern about the virus weakens, customers may want restrictions loosened before it is appropriate to do so – and if it increases people may want retailers to react even faster. This will create tension and will require retailers to constantly monitor the attitudes of their customers, while continuing to watch-out for the safety of the customer and their employees.
In summary, it may be impossible to avoid some of the things that most disrupt the shopping experience, including out-of-stocks. But, as Johnny Mercer once wrote, you need to "accentuate the positive and eliminate (or minimize) the negative". Use your communication channels to explain out of stocks and other actions you are taking to combat the virus and emphasize the positive variables… and keep listening to your customers as their attitudes are shifting rapidly!
The overall goal is to have customers who feel safe and rewarded for shopping in your store.
---
[1] Net satisfaction is calculated as the % who said they were "completely satisfied" with their in-store shopping experience minus those who said they were only slightly or not at all satisfied
[2] Multiple answers were accepted
Insights
The latest insights from our experts around the world