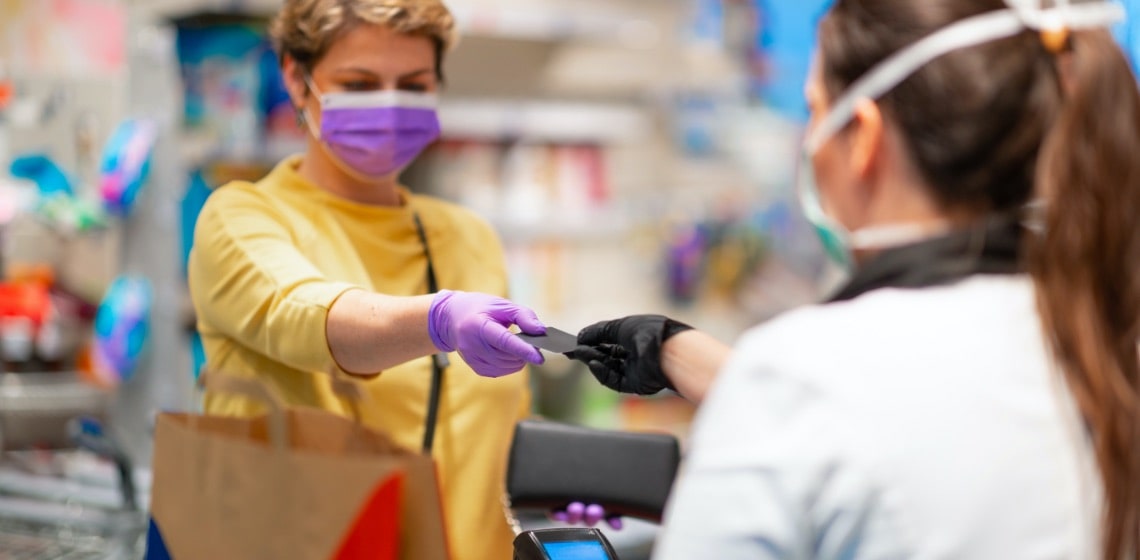 Since our update last week on How Food Retailers and Manufacturers are Serving and Protecting their Customers in the midst of the Coronavirus, food and pharmacy retailers and their suppliers continue to work tirelessly and heroically – in the face of health risks to themselves – to ensure their customers are able to feed themselves and their loved ones.
As the crisis continues to escalate, this week we look at how retailers are putting employees first and protecting them as part of a Customer First strategy, as well as determining the right way to offer value for money to customers and future considerations for pricing and promotion strategies.
Protecting Employees
Many governments around the globe have turned to formally classifying grocery, pharmacy and convenience store employees as "essential" and "emergency" workers due to the critical nature of their role in keeping stores open to feed and care for their communities. However, also understanding that these workers are exposing themselves to possible health risks, many retailers rolled out a series of safety protocols over the last week including:
Installing Plexiglass shields between cashiers and shoppers at pharmacy and grocery counters and in any still-open service departments
Implementing employee safety, self-care, and distancing rules
Providing protective gloves, masks, face screens, and other personal protective equipment
Increasing the frequency of sanitization efforts on all high-touch surfaces like payment pin pads, card machines, door handles, and conveyor belts
Altering hours to close stores earlier and close on Sundays to allow time for staff to rest
Establishing entrance and access controls to ensure crowds are in compliance with safe social distancing practices
Assigning employees with higher health risks to tasks with the lowest exposure risks, such as backroom work, and ensuring vulnerable groups are on paid leave.
Implementing contingency plans to possibly close selected stores, based on data projections for available workforce and competitive intensity to ensure that consumers have a competitor choice if a particular store closes.
In addition to the physical protection tactics noted above, we applaud the many retailers who are also continuing to increase employee benefits, offering even greater salary increases (up another 10% in a recent example) and increased discounts on employee shopping baskets.
Sharing Resources between Sectors
Over the last week, we have also seen associations and outside industries providing resources and sharing workers with the grocery sector. The International Foodservice Distributors Association (IFDA) has partnered with The Food Industry Association (FMI) to provide excess foodservice resources to the grocery sector. In addition, foodservice distributors with unused capacity — including products, transportation and warehousing services — are connecting with food retailers seeking more supply. Some quick service restaurant franchisees have agreed to provide their staff to local grocers to both help their employees continue working and to fill manpower needs for the grocers. Some grocers have partnered with hard hit sectors in the service industry including travel, entertainment and hospitality to have their furloughed workers transition over to grocery stores and distribution centres.
Early take-aways for Price & Promotions Learnings
Each phase of the crisis will necessitate a different level of promotional intensity by retailers. For those regions still in the early weeks of the pandemic, retailers need help in managing intense demand in order to relieve the pressure on store operations.
Here are some of the actions retailers are taking now in Phase 1 of the crisis: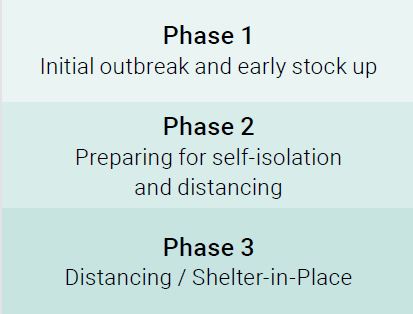 Reducing promotions by 30 to 40% during the first several weeks of the pandemic. Some grocers are opting to eliminate all promotions.
Discontinuing promotions that encourage shoppers to stock up.
Stopping promotional flyers.
Increasing digital communications through the website and mobile apps. Retailers are pointing shoppers to their most local stores and updating them on store hours.
After the initial phase of stocking up subsides and customers regain their faith in the store's supply chain, retailers can gradually add promotions back into promotionally-sensitive-core grocery, health and beauty, pet, and household items.
Key recommendations for Price & Promotions
Be careful about your pricing practices and how these affect price perception. Keep strong entry prices and be cautious about taking any price increases during this time of relatively inelastic demand to avoid being seen as profiteering. Price-sensitive and vulnerable shoppers are finding this a particularly tough period – so it is important to keep competitively low prices on KVIs (Key Value Items) and those most price-sensitive lines. Online channels should continue to also reflect in-store prices, and certainly not diverge during this time.
Shoppers need to find value – so don't stop promoting altogether. Fully cutting all promotions should be done with caution and an understanding of local regulations, how the change is being messaged, and with an eye towards consumer perceptions. Continue to use personalised offers and targeted promotions to drive frequency and spending.
Trade Planning requires new thinking now. Disruption to the traditional model that now puts supply over demand means that more than ever, grocers and CPGs cannot simply follow last year's promotional plan – and we see this disruption continuing for the next 3 to 6 months. Understanding shopper attitudes and future intentions around key events will be an important factor in event planning over the foreseeable future.
Key Price & Promotion Strategies Looking Forward
1. Value for money will become a heightened driver of behaviour as consumers face a depressed global economy. We see this leading to 1) Further Private Brand differentiation and expansion; 2) Deeper investment in base prices on key lines; 3) Fewer, more efficient promotions; 4) Focus on driving cash profit over % margin.
2. A Customer First approach to pricing and promotion (and ranging) is still the right answer. The good news is that consumer-data-led frameworks such as Key Value Items (KVIs), the Balanced Matrix and Category Roles, Seven Levers of Value Perception – will continue to be appropriate for informing strategic and tactical decisions going forward.
3. Disruptive pricing and promotion models are expanding as a result of consumer behavior changes during the pandemic. We believe that the crisis will trigger a tipping point for retailers to switch from the paper flyer to more digital communication through their website and app, with a more urgent value in making this personal. In-store media will become more important and impactful as well. Subscription models are being adopted by retailers such as "Delivery Savers to help manage online demand. Online pure-players are pointing the way to opportunities for new pricing bundles and subscriptions on "destination" areas, in concert with suppliers.
Implications for Retailers and CPGs
Retailers and CPGs need to reset price and promotion strategies in order to create a more sustainable, consumer data-driven model. Let's face it – the crisis has forced the entire industry into "rehab" to re-examine its practices on many levels. This catharsis gives both retailers and CPGs an opportunity to step-change promotional effectiveness and efficiency, led more by data than by legacy.
Before the pandemic hit, the percentage of retailer sales on promotion hit an all-time high, ranging between 38% and 50% of sales across the sector, according to our data and observations. Ever-increasing promotional dependence is not sustainable against the growing Discounter/ Modern Convenience format and customer value proposition. Getting the price versus promotion formula right will be even more critical post pandemic. Some retailers plan to reflexively return to executing the remainder of their promotional calendar as originally planned after the crisis subsides, but we believe, instead, that this is an opportunity to reset. We will need different thinking a year from now when we strive to match the current sales spikes.
The "Art" of merchandising and the "Science" of analytics need to be blended, now more than ever. For example, as consumers burn through their loaded stocks and pantries, we believe it is imperative for retailers to institute selective pricing and promotional efforts for perishables and fresh items in the basket mix. Conversely, an expected decrease in some core centre store categories – but not all – calls for precision pricing and promotion to minimise overinvestment.
In this time of unprecedented challenges for businesses, employees, and shoppers, Customer First principles should play a key role in every retailer's strategy. Not just for protecting employees and frontline workers so they can continue to serve their communities, but to prepare for the changing Customer needs as the pandemic develops.
To download a copy of this article, please click the button below
Insights
The latest insights from our experts around the world