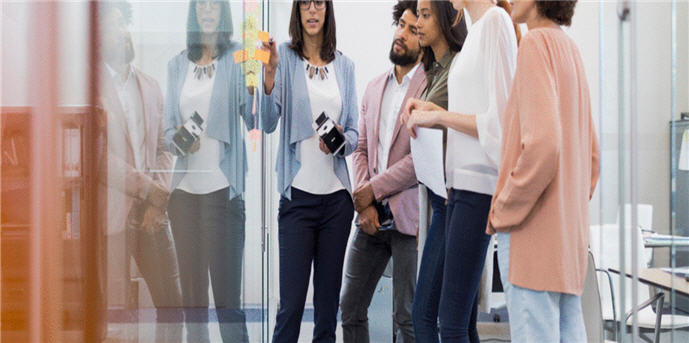 Most companies attempting to drive customer loyalty fail miserably – and few so-called 'customer-centric' companies generate sustainable customer loyalty that drives measurable business results. Why? Because they get three key principles completely wrong, right from the start:
1) Loyalty is about the company acting loyally to its customers, not vice versa
2) It is about a loyalty approach, not a loyalty program
3) Loyalty is about the store, not only about the CRM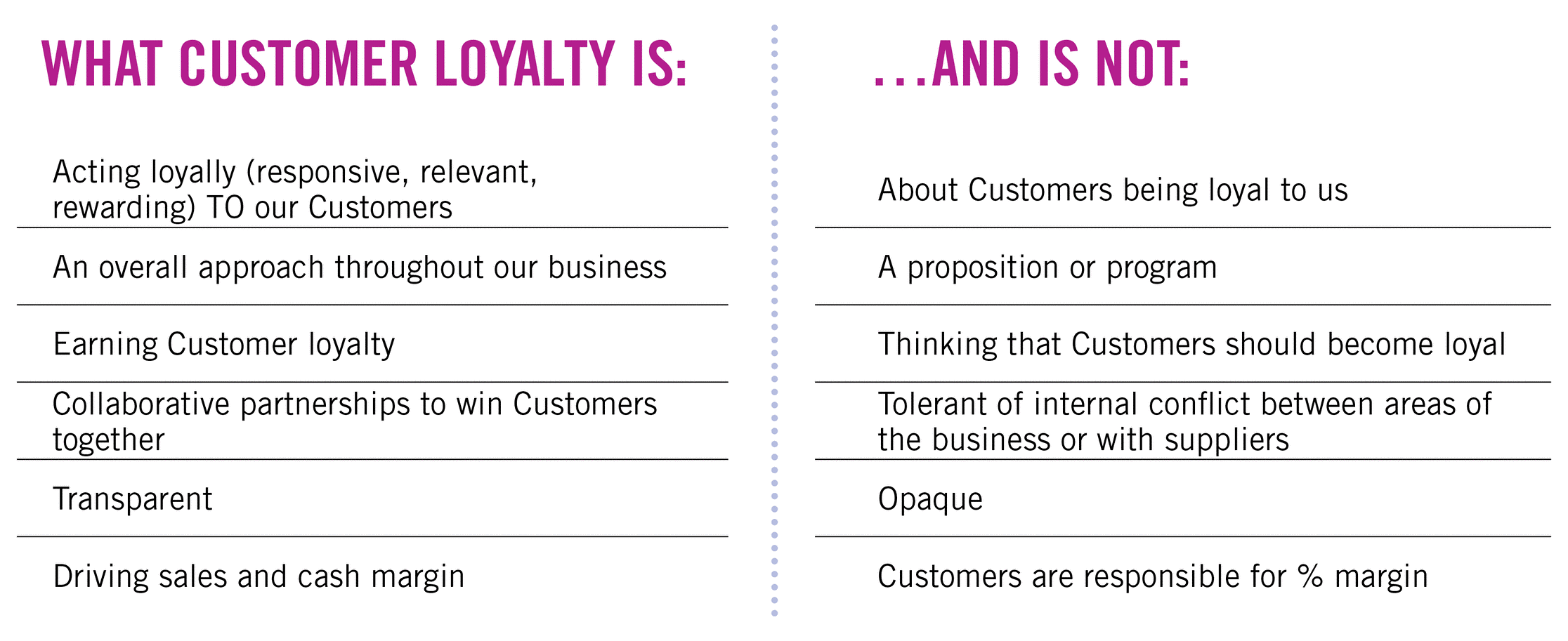 1.    Loyal to customers
We start to act loyally to customers when we understand them to a level of detail that ensures that we remain responsive to changes in their behavior, relevant to ever changing customer needs and rewarding in the way we treat customers.
Acting loyally is about adopting a loyalty mindset of managing customer segments as strategic business units (aligning with how we think about a Category Management strategy as managing categories as strategic business units). This context demands change that is both incremental and transformational – evolution, but with a bit of manageable revolution.
2.    Loyalty Approach versus Loyalty Program
We demonstrate loyalty to our customers by taking a loyalty approach wherein we commit to rewarding and delighting our customers with products and experiences that meet their wants and needs.
We call this putting 'Customers First' when we decide on priorities and actions based on insights from our customer data.
By doing so, a retailer becomes an even more prominent choice in the customer's consideration set. This is not a tactic – it is a long-term strategy that makes the customer the focal point of our business decisions and objectives.
Big "L" and little "l" of loyalty
The Loyalty Program is an important element within this loyalty approach, as the key source of the data that enables customer intelligence and this approach, and as the channel that enables us to talk to our customers personally. I call the loyalty program the "little l (lower case)" in loyalty, with the Loyalty approach as the 'big L (upper case)".
But, a loyalty program is not required to act in a Loyal way to customers. Here's how to think of 'big L' Loyalty:
A Loyalty approach, simply put, embeds customer insight throughout the retail organization to enable better, faster decisions and thereby increase sales and profit sustainably. Best-in-class practitioners have seen an incremental sales uplift in the early stages of a Loyalty approach of between 1% and 2% and later stages between 3% and 4%, quarter over quarter and year over year.
3.    Loyalty is about the Store, not just the CRM
As I used to say to my retail colleagues, "if the store is lousy but we deliver brilliant, targeted CRM, the store will still be lousy."
Even if the personalized CRM is perfect, customers need to perceive that tangible changes have been made in the store itself before they will respond by giving more of their custom. We must put customer insights into action within the "hard wiring" of retail practices– pricing, promotion, assortment, adjacencies, new products, the checkout experience, and so on.
In my first article in this series, I shared several examples of being loyal to customers in store by simply making the shopping experience easier – setting the yogurt section by customer need rather than by brand blocks (informed by insights), for example, and by setting product adjacencies according to how customers shop, rather than by how items are sourced in the supply chain.
Implications for Retail leaders: three ways to activate a true Loyalty Approach
Here's how to activate a true Loyalty approach, and how to make certain that your Loyalty isn't too small:
1.     Make better business decisions by putting the Customer First. Everything is better when you start with the customer. Start with the data you hold on customers – understanding how they shop and behave, what is important to them and how they engage with your business. This insight will identify a number of opportunities for better decisions using the data.
2.     Improve the Customer Experience by using data-driven insights to improve your retail offering, such as assortment, pricing and promotions. Use insights to connect you to your customer through the store. Think of the mantra "data to insights to actions" – this is how improved like-for-like sales growth and customer loyalty is delivered.
3.     Transform the organization using customer-driven insight to help you better understand, anticipate, measure and continually respond to your customers. This is realized through empowering, aligning and equipping your people with relevant insights, values, goals, strategies and actions.
Be sure to look for an upcoming article in this series about how to "First, put Employees First" for ideas on how to activate the army of your people to focus on customers.
This is the fifth in a series of LinkedIn articles from David Ciancio, advocating the voice of the customer in the highly competitive food-retail industry.
Insights
The latest insights from our experts around the world