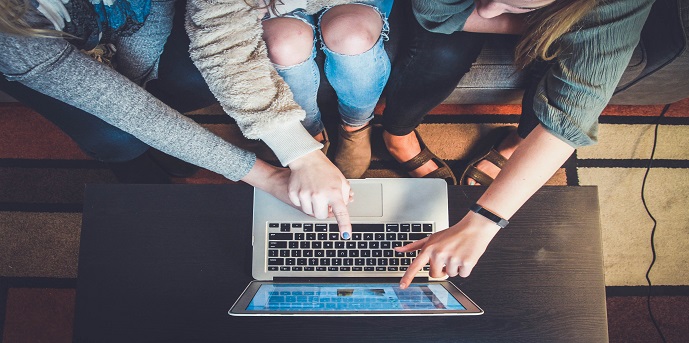 If we've evolved from Mad Men to Math Men, what's to become of advertising in the distant future? An advertisement that is a living and breathing algorithm so in tune with the customer's needs and interests, that it materialises at the likeliest time with personalised creative, thus enticing a purchase while reinforcing brand affinity?
Allow my imagination to get the best of me, and I'm picturing the consumer of the future alongside androids, representing aspirational lifestyles. Examples of futuristic advertising might have the android within the advert, moving as dynamically as the flow of data.
An upcoming birthday party against budget constraints? And I see the android's image within an advert wearing a carousel of party dresses all well within their price range.
How about a favourite new recipe with consideration for dietary requirements? Then, the android is seen cooking step by-step, with carefully selected gluten-free ingredients.
A last-minute business trip amidst a marathon-training plan? This advert features running routes stemming from the hotel, accompanied by tunes from a new recording artist intended to last the distance of the run.
While we might be several lightyears away from weighing up Philip K Dick's question, Do Androids Dream of Electric Sheep? (in a world that was later reimagined as Bladerunner), the idea that information is digested in order to serve up a personalised, dynamic ad is very much within our scope—our current and future reality.
Dynamic creative optimisation (DCO) is the use of programmatic technologies to automatically optimise the elements appearing in a digital display banner. Examples of these elements, that can be optimised on a per-user-basis, include products and offers, call-to-action, promotions and discounts. The colours or placement of button. The carousel of party dresses. The last available seat on a flight, at its current price. Accessories to complement the item you just purchased.
These elements draw from information ranging anywhere from a customer's diverse transactional information (e.g. past-purchase history, abandoned baskets, product returns, loyalty programme participation) to other data assets, such as product feeds or insights from A/B testing.
Advertisers are already leveraging this technology in tandem with programmatic buying across publisher inventory, however, where Dynamic Creative Optimisation still has potential for growth is across a retailer's own media inventory.
Consider the likes of Tesco, Amazon or eBay. Their websites offer space for brands to take advantage of being featured more prominently as media banners, recommended items, favourite products, and more. In many instances, built-in algorithms serve up products most likely to be purchased based on the customer's shopping behaviour on said retailer's site, whether online only or in addition to in-store.
Imagine, then, a dynamic creative conjuring up elements from not only a customer's in-store purchases synced with their online browsing and buying, but also about a brand's product availability in the nearest store or warehouse?
Brands would unlock another granular level of targeting with the retailer breaking into the publisher's frontier.
A retailer's online site can be a breeding ground for customer insights. Retailers featuring content like recipes, fitness tips and seasonal fashion trends have an understanding of their customers' interests and can segment accordingly.
As a customer, I might be scrolling through my favourite fashion retailer's latest campaign and the story behind it. Today, retailers already provide customers with extra content (more reason to linger on-site). But in a future, that's a hot minute away, this fashion retailer might be working with my favourite brands to dynamically serve up a media banner displaying accessories to accompany a recently purchased dress, drawing in from other information such as: which content I engaged with the most, my average basket order, my nearest store or warehouse or seasonal trends.
When data such as trends or content is combined with actual purchases, advertisers are presented with a rich and credible foundation to power their campaigns with granular targeting capability and accuracy. This data helps brands to make informed strategic investments into specific customer segments.
Again, this isn't prophetic talk, but the marriage of science and creative to deliver this is still in its honeymoon phase, existing only on traditional publisher inventory, as an unappealing retargeting template, or as a not-so-personalised message. When A+ creative services are blended in with data mix, we move closer to a powerful combination of a granular level of targeting offered by science, and the brand affinity delivered by the creative message.
What could be more crucial than certainty? The added element of creativity. Math Men or Mad Men, advertising still relies on creative skills to reach customers with a specified marketing message. Whether the data and the algorithm arrive as a shape-shifting android, as the creative brief itself, or as a dynamically served advert, science and creatives provide an exciting space for brand and retailer to explore innovation together.
First published in the Guide to Digital Innovation from iabuk.com, authored by Erika Soliven
Insights
The latest insights from our experts around the world