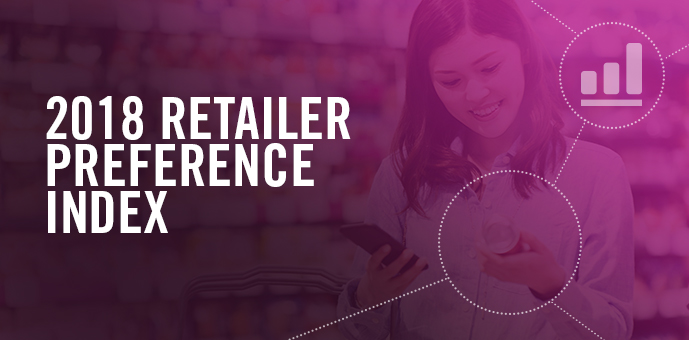 At the start of 2018, dunnhumby published its inaugural Retailer Preference Index, focused on the U.S. Grocery channel. Our goal: to understand what drives consumer preference for U.S. grocery banners. Those at the top of the list best delivered on the areas most important to their particular shoppers, resulting in a higher preference score and overall higher performance – both financially and emotionally.
As we get ready to head into 2019, here are a few of the key takeaways for retailers to consider:
By far, the core drivers of preference are Price and Quality. They are so much more important than the other drivers that a very poor score on either measure can significantly impact preference and their corresponding market performance. Retailers with a weak value core should focus on shoring up that weakness before turning attention to other drivers such as Convenience, Rewards, or Speed.
The second quartile include some of the higher performing banners with the longest histories, like King Soopers and Harris Teeter. This quartile has the highest Top of Mind recall and the second highest financial performance. This group does not perform as well as the top quartile because their Price and Quality scores are not as strong, but this second group differentiates itself by exceling at secondary preference drivers, such as Promotions, Rewards, and Information.
Many undifferentiated mainstream banners, like Winn-Dixie and ShopKo are delivering minimal value to their shoppers. Even though many have been shopped for a long period of time, they have the weakest emotional connection. They must focus on improving value perceptions and reconnect with their shoppers, or risk losing those customers in an increasingly competitive market.
To learn more, download a free copy of the report. If your banner is in our report and you'd like your custom banner profile, contact us. 
The list of grocery banners, in alphabetical order, includes:
Acme Markets
Albertsons
Aldi
Amazon
Bi-Lo
Big Y Foods
BJs Wholesale
Brookshire Grocery Company
Costco
Food City
Food Lion
Food4Less/Foods Co.
Fred Meyer
Fry's Food & Drug
Giant (MD)
Giant (PA)
Giant Eagle
H-E-B
Hannaford
Harris Teeter
Hy-Vee
Ingles Markets
Jewel-Osco
King Soopers
Kroger
Lowes Foods
Market Basket
Meijer
Price Chopper
Publix
Ralphs
Safeway
Sam's Club
Schnucks
Shaw's / Star Market
ShopKo
Smart & Final
Smith's Food & Drug
Sprouts Farmers Market
Stater Bros
Stop & Shop
SuperValu
Target
Tops Friendly Markets
Trader Joe's
Vons
Walmart
Walmart Neighborhood
Wegmans
Weis Markets
WinCo
Winn-Dixie
Insights
The latest insights from our experts around the world