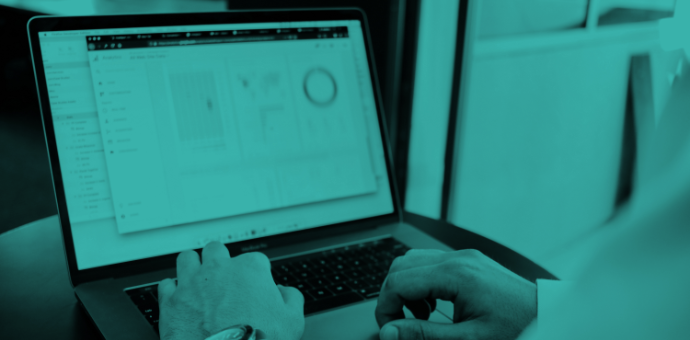 It's easy to see why click-based attribution has been so enduringly popular in digital. It's simple, it's direct, it's more or less free to set up through widely available tools, and it doesn't take a mathematics PhD to track the measure. Moreover, it allows marketers to quickly calculate an ROI and prove, in theory at least, that their chosen channels are effective. Little surprise, then, that last click remains extremely popular as an attribution model[1].
Deep down, though, most marketers can spot the flaws in this method. Last click and last touch may have been appropriate in another age, when there were fewer channels, fewer publishers and generally fewer ways of interacting with customers. That's even before you take into account that globally, fewer than 1 in every 2,000 ads served even gets clicked[2].
With ever-increasing marketing sophistication, customer expectation and speed at which the array and complexity of marketing channels is expanding, the numbers just don't add up to support this model any longer. 95% of marketers say they know how important multichannel marketing is for targeting, yet only 73% say they have a multichannel strategy in place[3] – a very telling gap.
What's worse is that by persisting with this model, tech providers are actively rewarded for bad practice. If the attribution is all about what the customer saw or did last, the best strategy for each channel is bombardment. If a retargeting ad is in front of a customer 20 times a day, there's a much higher chance it'll be the last touch than if they only saw it once. Multiply this across competing channel providers, and there's little wonder customers get annoyed with digital advertising.
Without more sophisticated attribution methods, marketers risk a triple threat to their efforts: an inaccurate measurement framework, promoting partners with poor practices, and alienating the very customers they're trying to attract. This can only lead to brand erosion in the long term.
Savvy marketers are increasingly turning to multi-touch attribution. Instead of thinking about the last channel the customer saw, they're thinking about how their whole marketing effort works together and how channels work in sync to drive sales. That's why good campaign design should be focused around customer data insights.
Moving beyond last click
Measurement models to date have proven to be misleading and, perhaps, focused in the wrong areas. Recently, a global telecommunications client challenged us to prove Programmatic performance. Their incumbent last-click measurement model indicated that this approach wasn't performing well.
But was the last click the most important result to be measuring? Was it ensuring the customer received the best experience and the client had the best sales outcome, which is what a good model should prove? This was put to the test when a neutral third party was asked to decipher if this was adding value or not.
Their approach was to measure through a multi-touch model and a straightforward A/B test: half of the target market ran with dunnhumby Programmatic (in addition to other paid and owned channels), and half without. The question was simple: was this approach generating incremental sales for the client?
The results were unequivocal. In the space of one month, the area running Programmatic generated 15% more sales than the area without. Having this customer experience-driven focus along with the data-driven insights were a measurable benefit to all other channels; switching it off led to a 12-50% drop in sales for every other channel in the marketing mix. The chart below indicates where the losses occurred for each of the channels not supported by programmatic activity. The study also showed that in a single month, running the tool was delivering an incremental 2,800 sales of big-ticket electrical items for the client, generating an extremely strong ROI and the lowest CPA of any marketing channel.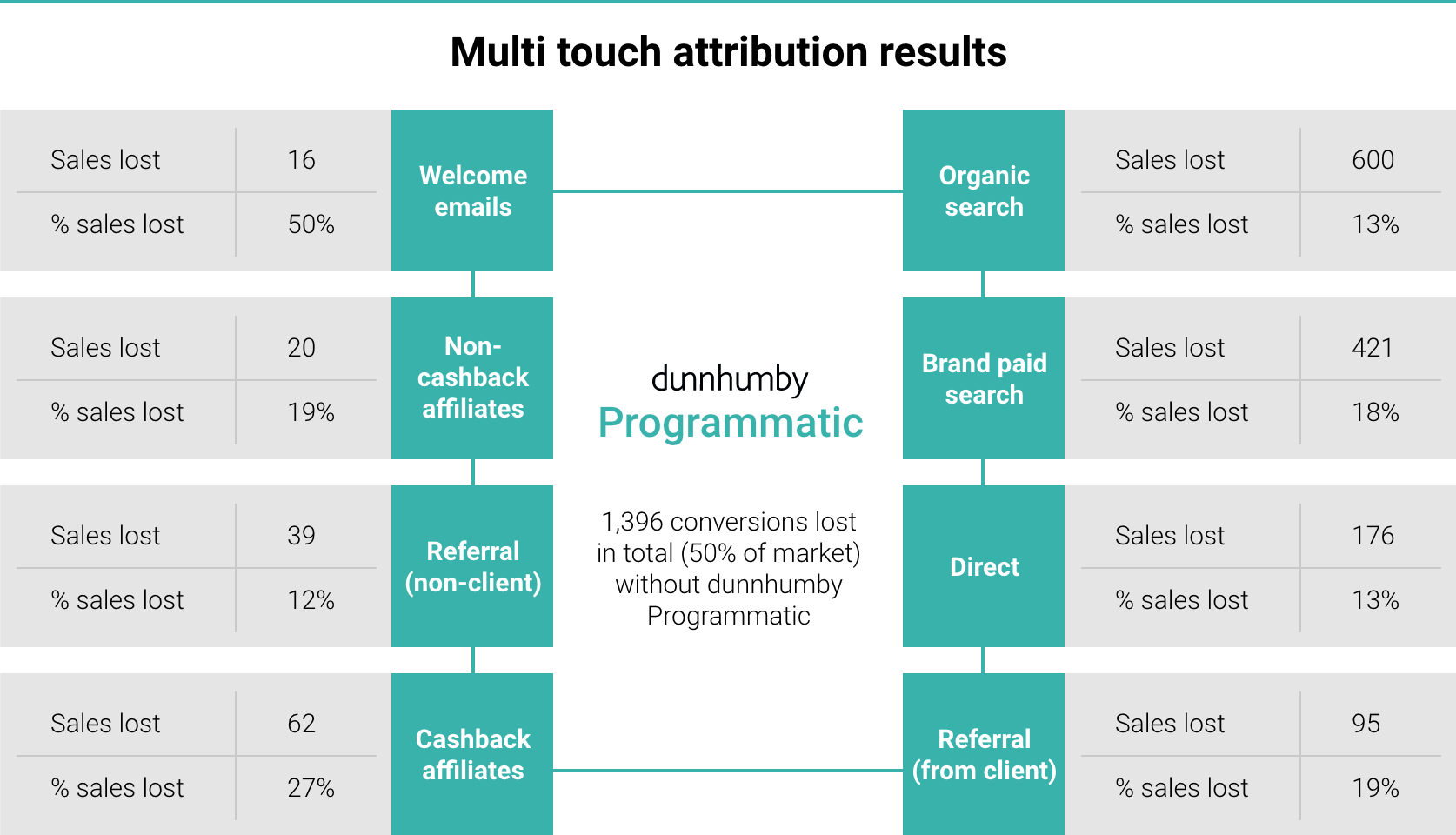 Improving the marketing mix with multi-touch
This approach was hugely beneficial for the client. Using the multi-touch model and smart attribution techniques gave them invaluable insight into the ideal mix of channels. As a result, they were able to allocate budget based on true performance, increasing the efficiency and effectiveness of their spend. The study gave them confidence to upweight their investment in dunnhumby Programmatic by almost 20% vs the previous year and they went on to achieve a 54% growth in peak season sales year-on-year.
The danger for marketers using last click or last touch is that the results don't tell the same meaningful story. By only focusing on clicks or final actions, brands will miss the combined effect and value of channels and solutions. At worst, this can lead to a heavily unbalanced marketing mix which prioritises the wrong channels or even the wrong partners, creating a marketing effort that works against itself rather than channels improving each other.
It's not an easy step to move away from the classic models, but by evolving your success metrics to focus on multi-touch attribution, you'll have greater visibility of the true performance of your marketing efforts.
Insights
The latest insights from our experts around the world