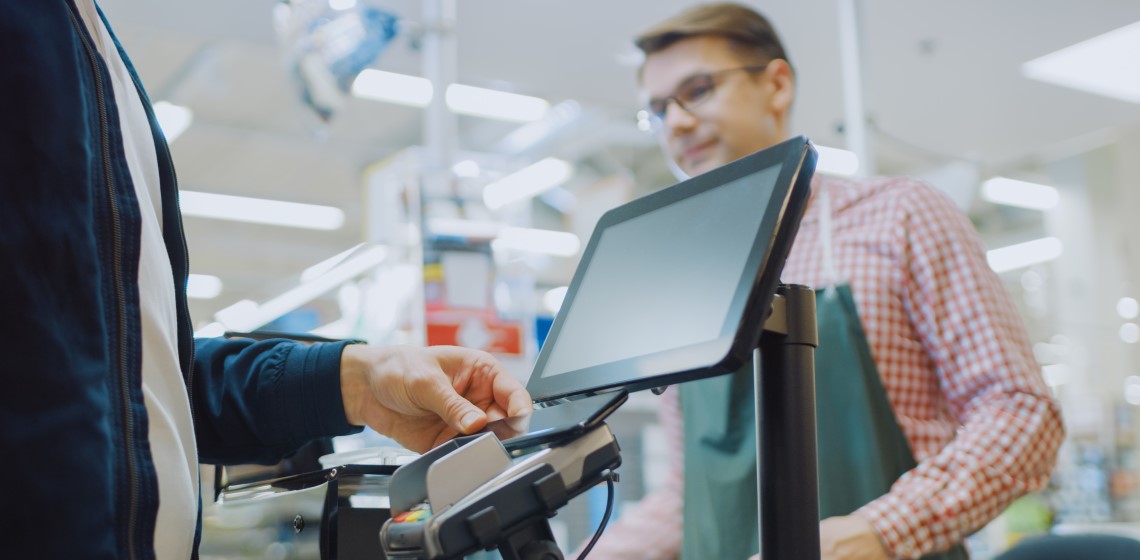 Shelley Bransten, Corporate Vice President Global Retail & Consumer Goods industries, Microsoft.
This is a summary of Shelley Bransten's presentation at the dunnhumby Global Partner Summit 2020.
For everyone, 2020 has been a tough year. And for all of us in the retail world there's no exception. Having spent my whole life in this incredible industry I am as passionate and invested as anyone in the challenges we're facing. But through adversity comes innovation and as a partner to dunnhumby, Microsoft continues to invest heavily in solutions that solve the challenges of today and tomorrow.
These are the four key areas covered in this article:
What's top of mind for CXOs (Chief Experience Officers)?
How is Microsoft helping retailers to respond?
Success stories
Using Microsoft as part of your global partner ecosystem
What's top of mind for CXOs?
For retailers, quite frankly, there's a lot. And it differs from country to country and even category within the same region. But I'm seeing and hearing a lot about the following areas:
Employee health and safety
Safe and efficient stores
Resilient and agile supply chains
Online scalability and omnichannel specifically, BOPIS (buy online, pick up in-store) and BOPAC (buy online, pick up at curb)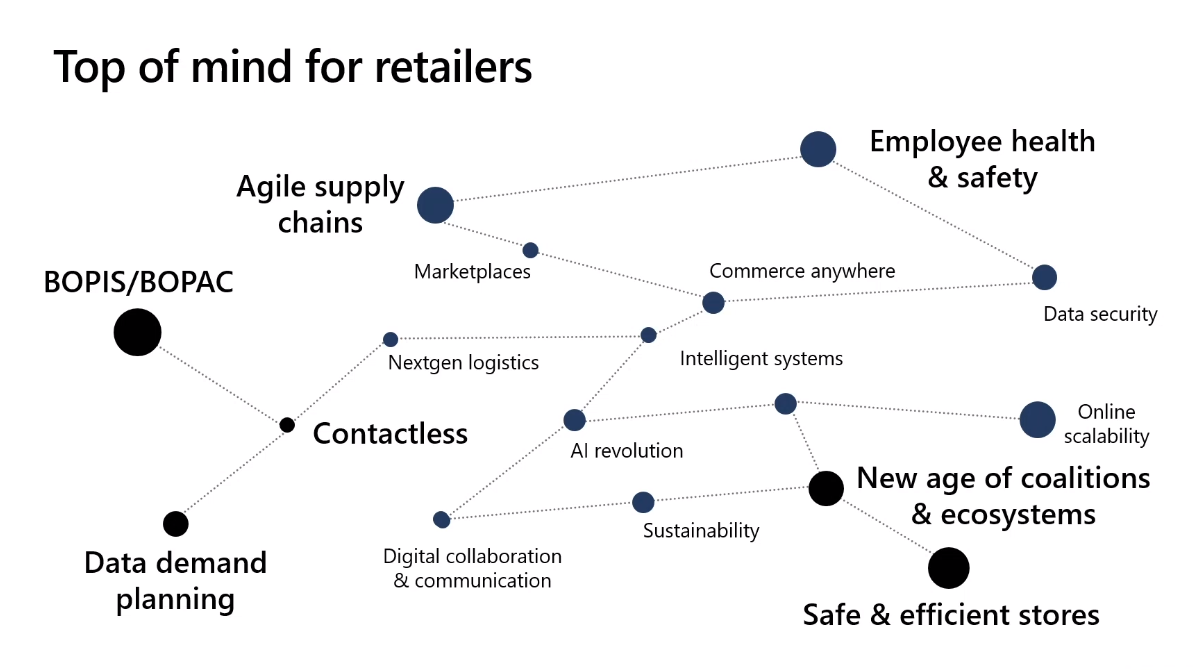 Covid-19 has accelerated the shifts we were already seeing in the industry – many retailers continue to say that they've delivered four years of digital transformation in four months.
Online is expected to capture 88% of global growth in retail this year and I'm experiencing this as a shopper myself. Mastercard has shown that 79% of consumers are now willing to test contactless payments.
As 80% of retail employees are frontline workers, their health and safety is top of mind for many retail CEOs. As we see stores reopen, retailers are asking us "How do we make sure our stores are safe and efficient?"
How is Microsoft helping retailers to respond?
To respond to challenges effectively I've always believed you need to simplify. Our approach focuses on four priority or transformational scenarios:
Know your customers
Empower your employees
Deliver an intelligent supply chain
Reimagine retail
We've seen during Covid-19 that the retailers that have been the most ambitious about connecting the dots of data and AI to these four transformation scenarios have fared best. The reason that 92 of the top 100 retailers are trusting their data and AI strategy to the Microsoft retail cloud is because they are able to go faster to meet the needs of their customers.
Now let's look at some practical applications in the shape of retailer success.
Success stories
When Covid-19 hit, dine-in service completely stopped, and Chipotle was looking for other ways to service their customers. Using our Dynamics 365 technology, Chipotle was able to quickly pivot their messaging from "Come into our restaurants" to "Buy online, pick-up-at-kerb, or contactless order and pay". This resulted in shifting their business from 20% mobile order and pay, to 80% in a matter of days. The more the consumer is using contactless delivery, the more insight that Chipotle is getting, and the more they are personalising every interaction. Many are predicting that buy online, pick up at kerb, and contactless shopping are here to stay.
With working from home the new normal, it's the ideal time to talk about IKEA. This business is incredibly focused on its first line workers and their health and safety is their priority. IKEA is using Microsoft Teams with 166,000 of their staff, and this rapid adoption of this technology has essentially replaced travel. Collaborating online has saved a single store $37,000. Scale this up globally and the savings for IKEA could be huge.
McKinsey predicts that 50% of the shop-to-loyalty will continue post-Covid-19. In the United States, 78% of the population lives within five miles of a Walgreens and they have 8 million customers coming into one of their stores daily. What they've learned is if a customer comes in twice and doesn't find what they're looking for they're never going back to that Walgreen's again. With 44% of consumers shifting brands during Covid-19 you must have the right product in the right place at the right time.
The final phase is to 'reimagine retail' and Woolworths in Australia have managed to weather this storm by understanding the consumer shift and changes in the demand for online services during lockdown. Consumers that had previously said, "We'll never do associate-free checkout", were now doing so. As social distancing concerns were top of mind, they were trialling contactless shopping, they were scanning goods with the mobile app, but they didn't want that traditional checkout interaction.
So far, the trials have gone so successfully that they've expanded some of these trials to 15 stores and they're expected to grow to many more Woolworths nationwide.
Using Microsoft as part of a global partner ecosystem
At a time when so much data is being exchanged, the trust of your data and the ability to action on it should be the top priority. At Microsoft we pride ourselves on the following four differentiators:
Continued platform innovation
Being enterprise ready
Providing sales and marketing at scale
Being part of a global partner ecosystem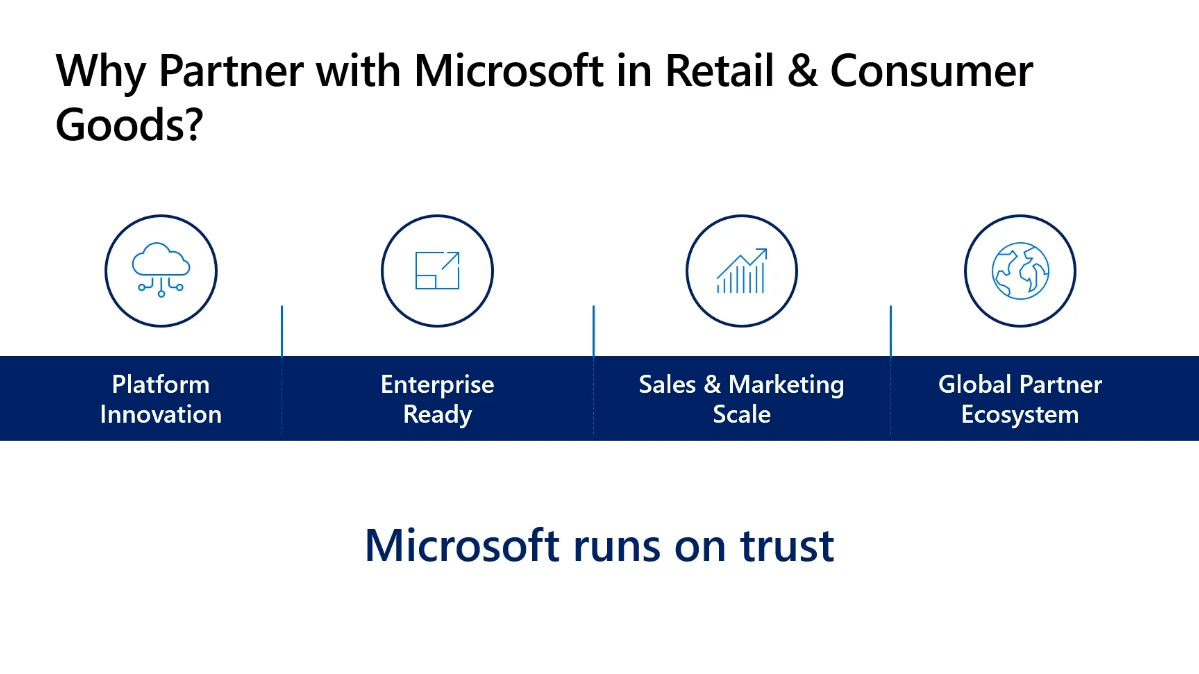 This last one is the key – it takes an ecosystem and that is one of the tenets of how Microsoft thinks about going to market.
Technology is not about taking away the art of retail. Technology, when done well, is about reinforcing what is amazing about retail but doing it with a high level of tech intensity. Our intention, and the way we build our products and pick our partners, is not to lock our customers in but to enable them to control their own destiny and be in control their own tech intensity. We believe that our retail brands must own their data and us it to improve the customer experience.
Insights
The latest insights from our experts around the world