dunnhumby Retailer Preference Index 2018: Convenience, Drug, and Dollar Channel Edition
8 October '18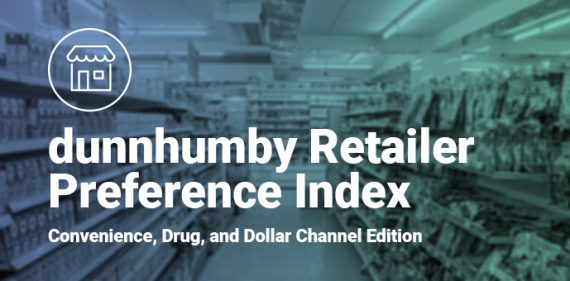 In dunnhumby's first edition of the Retailer Preference Index (RPI) study, a comprehensive nationwide study, we explore the evolving US Convenience, Dollar, and Drug channels to help retailers navigate an increasingly difficult market. The study focuses on the following questions:
What drives retailer preference among shoppers of smaller format grocery channels?
What retailers are winning and losing? And why?
What can retailers do to improve performance?
Existing ranking methods focus primarily on banner growth based on store counts, without linking the growth to emotional or financial performance. Our study is different because it quantifies the preference driver importance based on a combination of a banner's emotional connection and financial performance. The emotional connection was captured through a 15-minute online survey across 5,500 US households about how customers think and feel about 37 US Convenience, Dollar, and Drug retailers.
To learn more, download a free copy of the report.
Our goal is to help retailers focus their attention on the areas of their business that will improve the customer experience, to drive return trips and increase performance of their existing stores.
The list of banners evaluated, in alphabetical order, include:
7-Eleven
ampm
ARCO
BP Shop
Casey's General Stores
Chevron Food Mart
Circle K
Cumberland Farms
CVS
Dollar General
Dollar Tree
Exxon On The Run
Family Dollar
Fred's
GetGo
Holiday Stationstores
Kum & Go
Kwik Trip
Love's Travel Stops & Country Stores
Maverik
Meijer Gas Stations
Mobil On the Run
Murphy USA
Pilot Flying J
QuikTrip
RaceTrac
RaceWay
Rite Aid
Royal Farms
Sheetz
Shell
Speedway
TA
Thorntons
Turkey Hill Minit Markets
Walgreens
Wawa