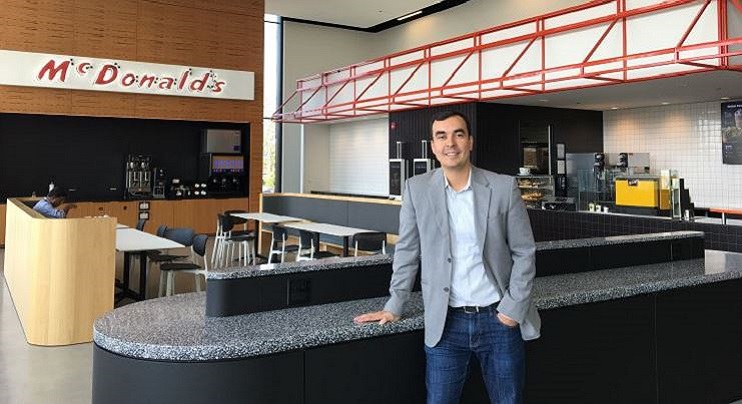 Take us through your career journey
I started my career at Telecom Italia, in Rio de Janeiro in the early 2000s, as a Business Intelligence analyst. It was the first time that I was exposed to massive volumes of data and I was fascinated by the ability to transform data into insights that could be used to inform and improve business decisions, influencing millions of customers lives. I quickly understood the power of data and I was keen to continue to build my career path in this area.
A few years later, I joined Coca-Cola and spent five years working for this iconic brand which helped to deepen my knowledge about CPGs.
I started thinking that it would be great to have more international exposure again, so I joined a Loyalty agency called Collinson (formerly ICLP) in Sao Paulo and later in London, where I helped to design and manage loyalty programs for clients in different industries.
This combination of data analysis, brand knowledge and loyalty experience took me to a unique place where I could use the combination of my former experiences and thrive: dunnhumby.
I first joined dunnhumby in 2013, in Sao Paulo, and held roles such as Head of Comms & Media Brazil and Head of Loyalty LatAm. At that time, I contributed to the exponential business growth in the region, where we won new clients, more than doubled the team size and established a strong regional footprint.
What did you do in-between your time at dunnhumby?
In 2016, I received an offer to join one of the most successful and complex business groups in Latin America, Falabella. The challenge was to build a Corporate BI team that would drive a Customer First & Digital transformation across seven verticals in seven different markets. It was a hard decision to leave dunnhumby, but the entrepreneurial bug bit me and I made my way to Santiago with my family.
What drew you back to dunnhumby?
Even though we were successful in planting the seed of Digital Transformation at Falabella, I missed the Customer First concept i.e. putting the customer at the centre of every business decision.
However, the most important factor: I was missing dunnhumby's culture, the people, the values and ultimately our core purpose: putting Customers First.
So, when Jose Gomes, Head of North America, called to offer me the opportunity to lead the McDonald's Global team, I didn't think twice.
What are you responsible for now at dunnhumby?
Since re-joining in August 2018, I have been assigned the role of Global Client Director for McDonald's, based in Chicago, working with their Global Team and multiple markets to maximise the value of their customer data and to embed our Customer First approach into their business.
Can you share any insights gained from your experience working in multiple geographies?
Working in multiple geographies has been a fantastic experience, and I have learnt a lot about the importance of cultural differences in the business environment. Having worked client side, I was able to experience the crucial elements of how decisions are made. Finally, I improved my ability to practice empathy more often, and to listen to others before making important decisions.
How did you feel about your time at dunnhumby in the past and now having returned?
I have always been very proud of my career, and dunnhumby has played a key role in this. Being away for a couple of years has helped me to see how strong our reputation is in our sector.
A true story: one of my former managers at Falabella had previously worked at Emnos and Quantium. He used to introduce himself as "an expert in Analytics and Data Science that had worked in 'dunnhumby-like' companies before" …
I feel tremendously grateful for being back, particularly in this moment when we are implementing a big transformation in our business, so I'm happy to be part of this journey.
In your career, what achievement are you most proud of?
Without a doubt, the 'international exposure' that I looked for when I decided to leave my home town more than a decade ago. Working with different markets, different languages and cultures is a very enjoyable experience. It has contributed to my professional development as well as my personal growth.
What is the best piece of career advice you have been given?
To have a clear career objective, to find the opportunity to do what I like the most and to build my own path towards it.
What advice would you give a returner?
The opportunity of being outside helps us to put a lot of things in perspective, so we can benchmark and compare. We should always consider what are the key things that we missed the most that made us return, and value those things, not just take them for granted.
We need to hold ourselves accountable for improving the things that we know can be improved internally. Get the best of what we saw outside that could be replicated at dunnhumby, and bring it to our work, for the better.
What do you like to do when you're not working?
I love to travel and spending time outdoors with my wife and two daughters, when the weather in Chicago permits! I also enjoy watching football especially when Flamengo is playing.
Who do you most admire and why?
I admire several people and I can't say there is one person that I admire the most, but I think these are my top three.
I feel inspired by Barak Obama, for his ability to articulate his thoughts in a very reasonable and structured way, and for his gentleness. I admired Ayrton Senna for his tenacity and self-motivation to compete and thrive, despite all the challenges. I admire Jorge Paulo Lemann for his ambition and his significant achievements in the business world.
What is your favourite dunnhumby moment?
I think one remarkable moment was when we signed our first contract with RD in Brazil, back in late 2014. I remember our very first meeting with their Commercial and Marketing VP, and a few months later we were signing the deal. It was a huge step forward in our business expansion in LatAm, and it was very timely as we could celebrate it during our Christmas party in Sao Paulo.
Are you a dh alumni? Make sure you sign up to our alumni network here [https://www.dhalumni.com/]