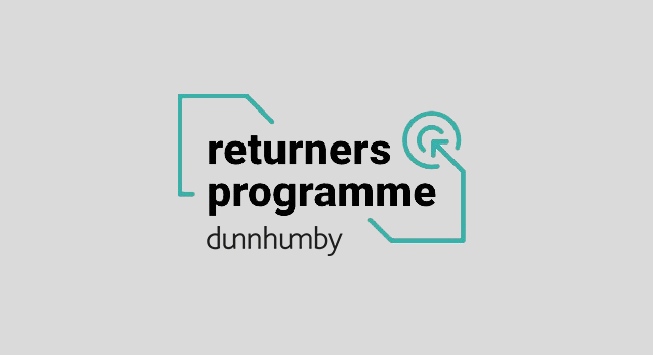 Looking to get back into work with a technology or data science background?
Following a successful launch event, we are delighted to open applications for the dunnhumby Returners Programme designed to support talented professionals who have taken an extended career break to get back into the workplace. If you have had a career break of two years or more, please read on to find out more about our programme, and how to apply!
Location: Brook Green, Hammersmith, London
Start Date: 21 September 2020
Programme: 5-month returners placement
Salary: Competitive package
Who are we looking looking for?
We celebrate talent from all backgrounds and for this programme specifically, we are looking for people who are technically-minded and who put customers at the heart of everything they do.
We are values-led, so we are looking for passionate, courageous, curious and collaborative people to contribute to our mission to empower businesses using our data science expertise.
You will have mid-to-senior level experience in the areas of Technology, IT Management or Data Science and have been on an extended career break for two or more years.
We have roles available in the following areas:
Data Science
Technology Services
IT Service Management
IT Engineering
Corporate Systems
There could be many reasons for you taking time out; this may have been for childcare or eldercare, or to relocate. During your career break you may have been working on a part-time or freelance basis to fit around your other commitments or you may not have done any paid work for a number of years.
About the dunnhumby Returners Programme
A paid 5-month placement with the possibility of transitioning into a permanent role.
Roles will be available across our technical business areas including the areas of Data Science, Technology Services, IT Service Management, IT Engineering and Corporate Systems.
You will receive coaching support from Women Returners to help you transition successfully back in to the workplace.
Ongoing support will be provided by dunnhumby's internal programme managers and employee buddies.
Flexible working options are available, including part-time working so please include these preferences in your application if they are important to you.
At dunnhumby, we are aware the current situation with Covid-19 may mean things need to be adjusted as they go along. However, we are committed to this programme and its success. We are an adaptive, forward-thinking and flexible business, and are prepared to run the programme virtually if necessary.
How to apply
Please email your CV and cover letter to Rob Rendle dunnhumbyreturners@dunnhumby.com
In your cover letter please share with us:
which area(s) you are most interested in and how your prior experience would be of benefit
duration of your career break and any details you wish to share i.e. due to family, caring responsibilities, relocation etc.
any flexible working preferences that you have
The deadline for applications is Sunday 24 May 2020.
We anticipate that online interviews will be conducted from mid-June onwards.
If you have any questions, please contact Rob Rendle dunnhumbyreturners@dunnhumby.com