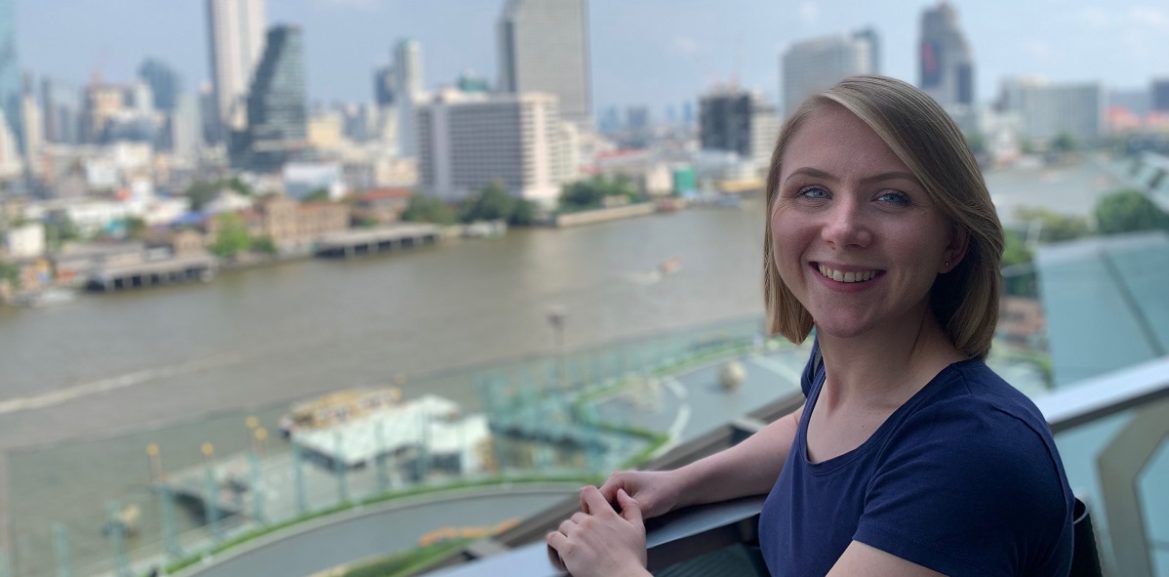 Take us through your career journey with dunnhumby?
I returned to dunnhumby in February 2019 joining the Bangkok office. I'm part of the APAC Category Management Team, covering Category Management projects and services for new clients, and supporting existing markets where relevant. As we work across APAC, we use English as our main language, relying on market support for local language where relevant.
From 2013 to 2016, I worked as a Client Lead in the UK Household team, mainly delivering Shop and Shelf Review insight investigations to suppliers. This was my first job out of university, and I hugely benefited from the wide variety of training that dunnhumby offers. I was also able to experience a variety in ways of working within different businesses, as I would typically spend one to two days each week out the office at supplier sites or Tesco head office.
What has been one of your key highlights at dunnhumby?
Being involved in the launch of the Small Supplier Incubator. A group of small, but high potential suppliers were selected to be nurtured by Tesco via additional engagement, training and Shop access. Having previously only been exposed to very large FMCG businesses, it was very interesting to understand more about small business mentality and ambitions.
What did you do in-between your time at dunnhumby?
I moved in 2016 to become the UK Category Manager at People Against Dirty (manufacturers of method & Ecover eco cleaning products). I worked across major UK retailers delivering Category Insights, aligning closely with our internal Sales team. Working in a small company requires being flexible and I was often expected to operate at a more senior level than normally expected of a Category Manager (e.g. preparing board meeting content) or carry out tasks that would typically fall to another business function (e.g. leading the recruitment and interview process for a Category Executive).
It was an amazing experience to work for a company with such an impactful core purpose, and they also had some very cool team building events (sheep herding, firewalking, camping in yurts…)
Moving to Asia had been an ambition of mine for several years, and in 2018, the time finally felt right. I started speaking to dunnhumby APAC recruitment to get a better understanding of the Thailand job market and it became clear that there was an opportunity that matched my skillset and interests. I relocated at the end of 2018 and started work in February 2019.
In your career, what achievement are you most proud of?
Successfully putting a case to a UK retailer that they needed to conduct a range review on Washing Up Liquid. In collaboration with my Sales team counterpart, we put together a business case that highlighted the category and brand size of prize for sales value, profit and customers, which the retailer took to an internal review. The case was approved and it was really rewarding to walk into store once the changes went live and know that we'd made it happen.
What is the best piece of career advice you have been given?
Focus on building a varied skill set with multiple strengths; It allows for more flexibility in your career path. It is often tempting to focus on the most direct progression path but there is a risk that you'll become overly specialised and unable to easily move around the business or change industries.
What are you involved in outside of work?
Work life balance is very important to me, so I tend to have a set of goals on what I'd like to achieve in my personal life. It is nowhere near as formal or complicated as Work Objectives (basically a couple of bullet points!), but helps me evaluate what is truly important to me and consequently what I should make time for.
I aim to exercise 3 times a week, varying the style based on what is currently appealing to me. I've put a lot of focus into cycling, yoga and ballet over the last couple of years, and since moving to Bangkok have taken up indoor rock climbing and swimming.
I've started learning Thai since my move, spending 2 evenings a week at school. While I don't need to learn it for my job, it's very important for me to integrate as fully as possible into Thai society and everyday life. My course currently focuses on 'survival Thai' such as directions and ordering food in a restaurant, so the tricky stuff like learning to read and write will be tackled later!
I'm also trying to travel once a month to make the most of living in Asia. So far, I've been to Ho Chi Minh City in Vietnam, and Koh Samet in Thailand, and shortly will be spending a few days in Siem Riep, Cambodia.
Who inspires you?
Catherine Conway, as she has pioneered the concept of Zero Waste for grocery stores. Typically, the Zero Waste movement has focused on individuals reducing the waste footprint of their personal household, while many people have dismissed Zero Waste stores as too complicated. Catherine was one of the first people to set up a Zero Waste store, and has since rolled out the concept to a wider market. There are now Zero Waste sections in UK grocer Planet Organic, and Catherine provides consultancy to grocery businesses on how they can too become Zero Waste stores.
When you think about dunnhumby, what one-word springs to mind?
Global
What's next for you?
Having only recently moved to Bangkok, I haven't yet decided what is next. After a few years in Asia, I would like to move slightly closer to the UK, although I don't know exactly where or when. For the time being, I'm happy to enjoy getting to grips with my new role and exploring Asia!