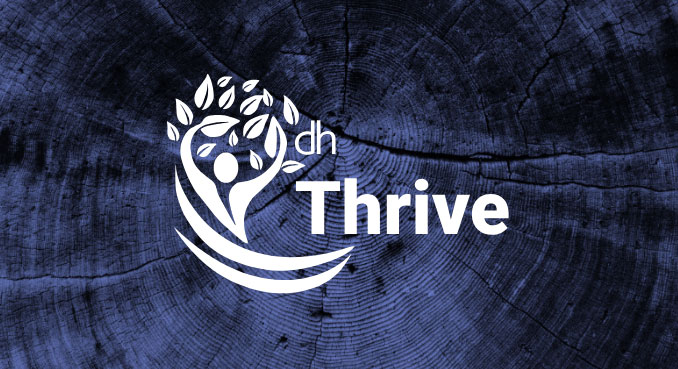 stig ▪ ma
a mark of disgrace or infamy; a stain or reproach, as on one's reputation.
Stigma erodes confidence that mental illnesses are real, treatable heath conditions. Stigma means erecting barriers around effective treatment and recovery. It's time to take those barriers down. It's time to end the stigma.
One in four of us have suffered or will suffer from mental ill health at some point in our lifetime, yet many are reluctant to talk about it. At dunnhumby we want to encourage a culture where people feel comfortable to speak out and share how they feel, and to provide practical means of support. Which is why we're excited to introduce dh Thrive – our employee-led, business-supported movement focussing on the mental health and emotional wellbeing of people at dunnhumby. Launching across our UK & Ireland offices today, we're then aiming to build on the initial launch and roll out across our global offices in the future.
Why do we need dh Thrive?
Our purpose is based on four core pillars:
Listen: providing someone objective and empathetic to talk to.
Upskill: building manager confidence to better support their teams and peers.
Educate: creating an environment where people understand what it means to look after their mental wellbeing and how best to do so – taking advantage of the support available.
Culture: opening up the conversation around mental health and building a culture where people can talk about it freely.
What difference will dh Thrive make at dunnhumby?
Our vision is that when experiencing mental health concerns, people feel comfortable and supported to raise them in an open, non-judgemental environment. Our people are aware of the importance of protecting their mental health through building resilience and self-awareness, alongside having confidence to listen and the knowledge of where to sign-post those in need. And that the right tools and support are provided to help build resilience to overcome challenges.
How are we going to achieve this?
Raising awareness and removing the stigma about mental wellbeing to enable people to Thrive, by providing effective support, education, and access to the tools and resources that are available.
1. dh Mental Health First Aiders (MHFA)
We're proud to announce we are aiming to match the number of MHFA with the number of Physical First Aiders we have supporting the UK&I business. MHFA are a point of contact and reassurance for individuals in the workplace who may be experiencing a mental health issue or emotional distress. Our MHFAs have received external training to become accredited and confident in how to apply the skills and knowledge in practice.
How can an MHFA help employees?
Support those developing or experiencing the worsening of a mental health issue.
Identify the signs and symptoms for a range of mental health conditions.
Provide first aid to someone experiencing a mental health issue or crisis.
Listen non-judgementally and hold supportive conversations.
Signpost people to professional help and support.
2. Mental Health training for people managers
Ensuring our managers feel equipped and understand how to support their team members is key to opening up the conversation about mental health and for building non-judgmental culture.
dh Thrive are partnering with Learning & Development to provide mental health training for people managers, in the form of a half-day accredited training course. The training will help managers understand and improve their knowledge and confidence about mental health and will give them the skills to support their own and others' positive wellbeing in the workplace.
3. Raising awareness and removing the stigma
Events
Featuring dunnhumbians, special guest speakers and external partners to open up the conversation about mental wellbeing at work and in our people's personal lives.
dh Thrive intranet hub
Including a brand new monthly newsletter, personal stories, contact details for our MHFAs, curated learning tools and resources, quick links and advice on who to contact for support, and much more.
4. Understanding how our people feel about their mental wellbeing
In collaboration with our Diversity & Inclusion data gathering team we'll be running a survey to gather a pulse check on how people feel about their own mental wellbeing at dunnhumby, and to understand what they'd like to see from dh Thrive to support mental wellbeing.
A simple thing you can change today
The power of "are you okay?". It seems so small, but it's a powerful thing to say. If you see someone's having a bad day simply asking "are you okay?" could make the difference between someone coping or not. Show you care and start a conversation today.
#TimetoTalk #TogetherWeThrive