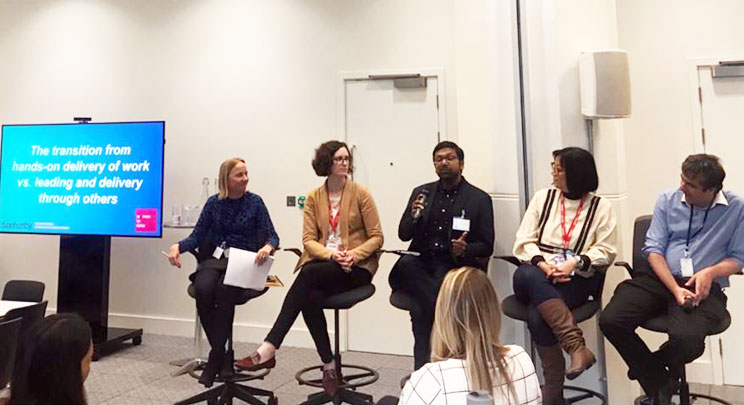 On Thursday 9 May we were proud to partner with Women in Data UK to host our first meet-up event for the data science community at our HQ in London. We believe in the importance of hosting these events to support women in the industry to network, develop new skills, and make progress in their careers by fostering a community of support.
The evening featured a lively panel discussion on the 'Transition from hands-on delivery of work vs leading and delivery through others' – a particularly pertinent topic for careers in data.
Welcoming back dunnhumby Alumni to join our panel Helen Louwrens, Director of Intelligence at Care Quality Commission & Anthea DeSyllas, Chief Solutions Officer at Polymatica, alongside dunnhumbians Jason Nathan, Global Head of Data and Amrit Kumar Data Science Manager (Customer Knowledge). All expertly hosted by our very own Sandie Stanley, Head of Customer Knowledge.
Topics discussed included practical advice and personal experience of making the leap from being an individual contributor to leading a team, the importance of maintaining technical skills in leadership positions and the skills needed for managing others. The panellists also spoke about the leadership skill and importance of planning through their understanding of the future state, and shared the advice they would give their younger self.
Two key themes emerged from the evening around empowering others and building trust within your teams.
The meet-up was an inspiring event which provided a valuable opportunity to meet and learn from industry leaders and peers. It was great to see many people passionate about building careers in data and advocating for a more diverse industry.
It's been fantastic to hear feedback from attendees who found it a really valuable session:
"The night felt like a masterclass on becoming a leader. I learnt more in one evening on style and skill then I had on a 12-month management course."
"I was interested in learning about the management career path in data analytics, and the challenges that people face. The meet-up definitely helped me understand what that progression path requires, and the personal qualities needed to be successful."
Look out for details about our Manchester meet-up event coming in the autumn.