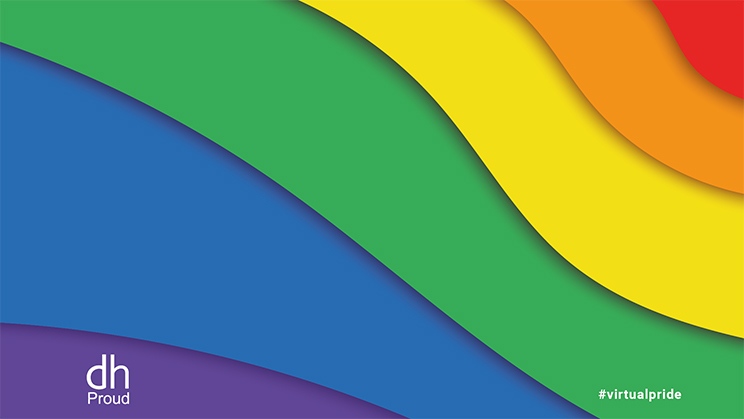 June is traditionally recognised as Pride month, 51 years on from the Stonewall riots that sparked the LGBTQ+ rights movement. Most Pride marches take place around the globe from May to September but have been unable to take place due to the Covid-19 pandemic.
So this year, with this in mind, dhProud is hosting a virtual pride to celebrate with the wider dh community! Virtual Pride celebrations are ever more important to embody the accepting, loving atmosphere of physical Pride marches while also serving as a visibility & educational tool and remind everyone of the battles still to be fought for LGBTQ+ equality.
The theme for Pride this year is 'You! Me! Us! We!' focusing on ally-ship within the LGBTQ+ community, which is even more relevant in recent times.
Linked to this, we would also like to draw attention to a quote from Maya Angelou: 'The truth is, no one of us can be free until everybody is free.' After the horrific death of George Floyd re-igniting the Black Lives Matter movement in America and across the world, we in the LGBTQ+ community are reminded that the Stonewall riots were started by queer people of colour. We cannot celebrate or draw attention to Pride month without first learning about our history and realising that we are all responsible for the fight for equality.
For virtual pride (22 – 26 June) there is a 'Wear the Rainbow' activation. To join in dunnhumbians will be 'creating a rainbow' on their calls, from their clothes to Teams backgrounds, and at the end of the week dhProud will round up the best rainbows, flags or commitments to colour as well as make a large dunnhumby Pride flag mosaic of everyone's submissions!
While Pride may not be celebrated on our streets this year, it is definitely not cancelled.
dhProud's mission
Proud To Be – helping to create an environment where our people feel comfortable to be themselves and live authentically in every aspect of their lives.
Proud To Ally – enabling people to be curious and expand their knowledge about LGBTQ+ and wider D&I topics.
Proud To Work – raising awareness and ensuring our people feel represented and supported by dunnhumby. We'll act as a symbol of our open and inclusive culture.
Proud To Support – providing confidential advice, support and mentoring to LGBTQ+ employees as well as support local and national LGBTQ+ charities.