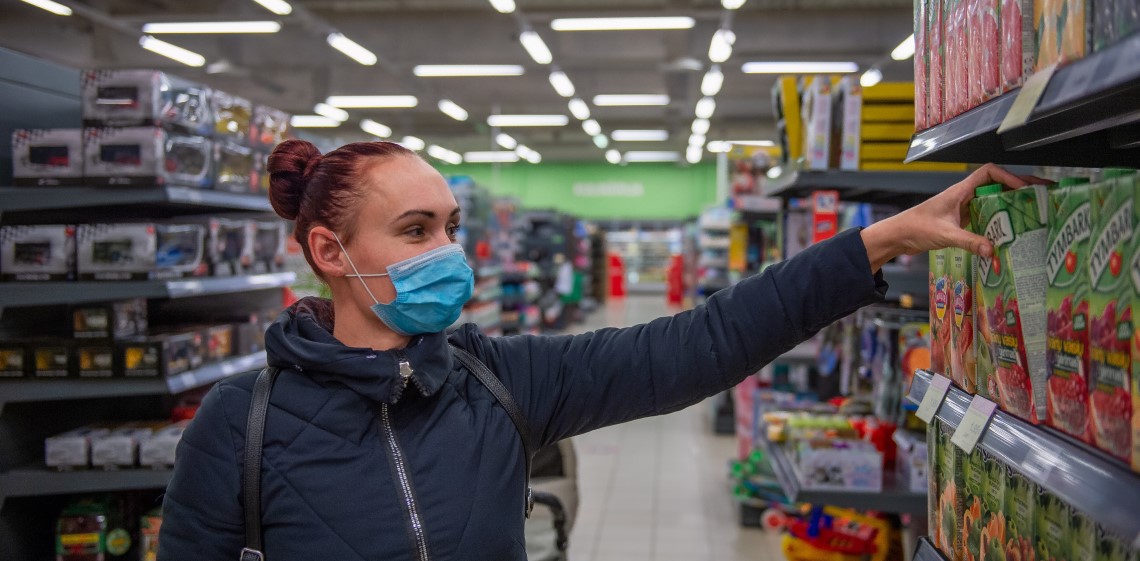 How to know when your business is ready to build Customer First data science capabilities: a dunnhumby perspective by David Ciancio
As a retail organisation transforms itself along the path to becoming Customer First, its own internal capabilities should organically mature in step with this transformation; an exemplary maturity curve is illustrated below.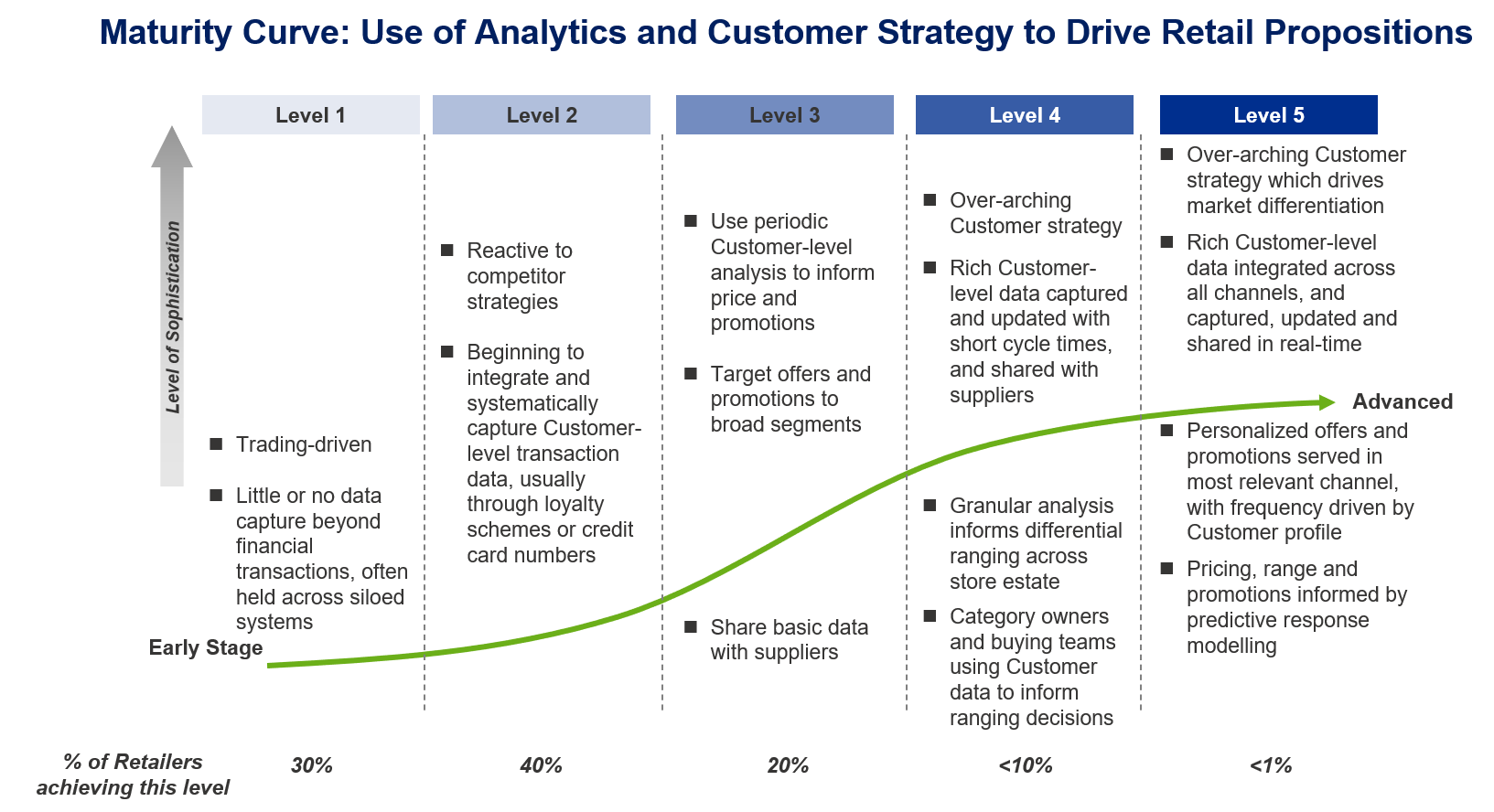 As the organisation learns and grows around the Customer, it may wish to onboard some enhanced Customer-centric services or technologies formerly provided by outside partners to an in-house team. We strongly believe, in fact, that accelerating internal capabilities should be an ambition for all services or technology partners of the business; we are ourselves deeply committed to this goal. In-housing can take the forms of transferred skills and knowledge from within a co-creation model, or as the outcome of a strategic Build-Operate-Transfer (BOT) plan to deliver specific activation tools or platforms. We illustrate several service-delivery options and levels of internalisation in a chart below.
Of course, Customer First must always be at the centre of the consideration of whether to bring certain capabilities in-house – and doing so must deliver better decisions for Customers. For examples, by taking a certain tech solution or service in-house, Customers should receive better service, save money when costs are reduced, benefit from increased efficiency and accuracy, or feel more secure in providing their personal information.
To help assess progress along the Customer First journey and readiness to in-house more advanced elements of Customer data science, analytics, and technical tools or services, we recommend the following checklist, which is derived from our earlier perspectives on the 5 Steps to Becoming a Customer First Business as well as from best practices amongst our global clients who are farther along their journeys.
Ten key steps to implement before in-housing Customer-centric technologies and capabilities
What should be true as foundational business as usual practices as you transfer capabilities to internal teams along your Customer First journey. You can confidently state that your organisation continually makes decisions wherein you:
Maximise the right data sources to understand what delights your Customers

You have a concise Data Strategy that clarifies which data assets are most useful, and how you will continue to integrate the right data across all channels.
You have documented how you will capture, update, and share insights to decision makers in the business in real time
Secure structures are in place to steward Customer data privacy and ensure compliance with relevant local legislation such as GDPR, CCPA.
Have a clear Customer Strategy

Your Customer Strategy illustrates how you differentiate your brand and experience in the market
Your tech and analytic capability developments are squarely focussed on the core pillars at the heart of your brand positioning. Core pillars of Customer choice are discussed in our Retail Preference Indices
Strategic Customer segments are identified, each with a clear Customer Journey around how you will earn greater loyalty
Your Customer Strategy is updated through a process like the annual Customer Review
Customer priorities are listed, with action plans to address these (Customer Promises)
Fluently speak a common Customer Language throughout your business, with your suppliers, and in the Board Room

There is 'one version of the Customer truth' that can be democratised throughout the business, and with suppliers
Clear Customer KPIs are measured and acted upon at all levels of the organisation, and by partners and suppliers
You also have a common dictionary around data science, as our dunnhumby Customer Data Science Dictionary
Upskill and empower the army of your people – the front-line staff who are the face of your brand every day in your stores

Team members understand how Customer data is used to support decision making and have access to information to help them better understand the Customers they meet and interact with
Each team member understands what they can personally do to help deliver on the Customer Promises
Have co-created a transformational Customer/Shopper-focussed collaboration model with suppliers

Growth in Customer/Shopper loyalty is a problem shared; earning loyalty drives growth for both the retailer and its suppliers (a rising tide lifts all boats)
Activate improvements in the shopping experiences in each channel and format around pricing, promotion, ranging, and Customer communications

Customers find shopping to be simpler, easier, more relevant, and personal
Customers find messages and offers to be more personally relevant
You can localise assortment, price/promotion, and store experience according to your brand or banner strategy
Banner Customer Value Propositions are clearly differentiated
Activate key process changes to sustain a Customer First culture

Change management initiatives have won hearts and minds
Unnecessary barriers have been removed from Customer-facing policies like returns / refunds
Hiring, compensation, and rewards practices include Customer First expectations
Know what skills, knowledge, tech, or capabilities that you want to transfer and why

Have a concise plan for digesting data, methodology, process, APIs and applications
Have discussed alternate delivery methods to transfer, e.g. flat files, annual refresh, partner data science working within your platform
Assess whether you have the necessary internal skills / infrastructure / time to digest the transfer (systems, tech, knowledge)

If not, what kind of development is needed to make ready?
Have a plan for integrating people and cultures (if bringing in from outside)
Decide which service-provider delivery model best fits your future strategic and Customer needs

In-housing capabilities is not an 'all or nothing' choice; there are several levels of skills, knowledge, tech and tools transfer available as you balance your internal needs
These models can be applied in different ways for different parts of your business or across different Customer propositions
Example: dunnhumby Build-Operate-Transfer (BOT) Delivery Options
Project-Based
Solution Provider
Managed Service
Integrated Service
Advanced Data Science Service
Self-sufficiency / Turnkey Service
overview
Short-tern discrete projects involving consulting and analytics
Specific solution or suite of solutions from provider portfolio
Dedicated team and access to provider products and services
Dedicated team with access and integration of specific products and services
Streamlined advanced data science team
Software as a service

Science as a service

People
Person-day specific access to consultants or applied data scientists in local market
Fixed allocation of time from consultants, applied data scientists, data engineers in local market
Full-time access to named consultants, applied data scientists, data engineers in local market and support of regional / global experts
Like Managed Service with support for integration into 3rd parties and passing some process to internal team to operate
Dedicated data science team

Consultants on key projects and initiatives

SLA support only. Potential transfer of people in provider operation roles to internal roles
Process
Project deliverables, outputs, presentations
Solution deployment and delivery, with recurring services as required
End-to-end support from strategy to execution

Change management support around internal capabilities and processes

Integrate Science into specific 3rd party solutions

Ingest outputs such as flat files, data feeds, data flags back to internal systems

License and train internal teams on specific methodologies and approach

Integrate Science into internal systems
Direct access to self-serve products and science APIs

Transfer day-to-day management activities to internal team

Application
N/A
Software products on private cloud
Software products on provider private cloud – with ongoing upgrades
3rd party integrations

Software products on hybrid cloud with ongoing upgrades

Data science APIs into internal built products and workflows
Software products on hybrid cloud

Machine learning/data science via APIs

Data
Data Lake
Data feed from internal to provider Data Solution
Data feed from internal to provider Data Solution
Data feed from internal to provider

Data Solution and data feedback to internal systems

Data feed from internal to provider

Data Solution and data integrated feed into internal Data Solution

Internal data solution – no data feed to provider
Keeping Customers in the Decision Process
In a companion paper, Five Customer First Rules for Retailers: the new tech edition, we concluded that a decision process on whether to build or buy a software solution must also consider the impacts on Customers resulting from tech and service decisions, and be mindful of effects on Customer experiences.
Similarly, Customers should also be at the centre of the consideration of whether to bring certain capabilities in-house. Applying this checklist will help you to know if you are thereby delivering better decisions for Customers – the key question to help you make the right choice along your journey.
For additional support on completing the checklist or determining the right Build-Operate-Transfer delivery model for your organisation, please contact your dunnhumby representative.
Insights
The latest insights from our experts around the world