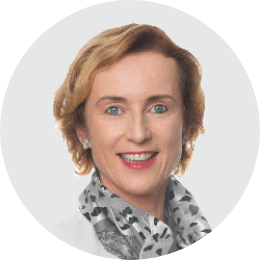 Julie Woods-Moss
Chair of the Board of Directors
Julie is chair of dunnhumby's board of directors. An Independent Director at Grosvenor Liverpool Ltd and a senior advisor at Agent3, a leading digital marketing and technology agency within the AIM listed Next15 Communications group, Julie works with dunnhumby's CEO, board and leadership team to help steer the company through its next stage of growth.
Julie was rated the 16th most influential CMO by Forbes in 2018 and one of the top 50 most inspiring women in tech in the UK, and is a member of the CNBC CMO global council. She is passionate about women in STEM and founded Tata Communications' 'Winning Mix' group, to improve policies and programmes to promote the development of women and minorities.
Experience
With more than 20 years' experience at top international corporations such as IBM, Liberty Media and British Telecom, Julie has a wealth of expertise across corporate and market development, digital transformation, global brand building, value proposition development, sales & marketing strategy and innovation.
What excites you about retail and Customer Data Science?
"The rise of the data-driven economy has created a whole new level of growth opportunities for companies who are willing to embrace the challenges and invest in new approaches. As the retail landscape continues to be disrupted, the competitive advantage that Customer Data Science enables will be a game changer".
Qualifications
Bachelor of Engineering, Telecommunications Engineering, Plymouth University
Ready to get started?
Get in touch and discover how we can help you succeed by putting your customers first.
Contact us