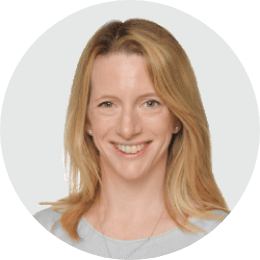 Sarah McCarthy
Chief Legal Officer
Sarah took up the position of Chief Legal Officer in 2010, having joined dunnhumby two years previously. Sarah has a broad remit in managing legal and compliance risk across the group, and ensuring that dunnhumby can deliver on its strategic objectives within the complexities that technology and data present internationally. Sarah sees the legal and compliance functions as business enablers and encourages her team to be integrated into the heart of the business. Sarah holds the position of Company Secretary for dunnhumby Limited and is Executive Sponsor of dunnhumby's diversity and inclusion programme.
Experience
Prior to joining dunnhumby, Sarah spent nearly seven years at law firm Slaughter and May, specialising in IT, IP and commercial contracts. She enjoyed working with a broad range of multi-national blue chip clients across all sectors, but moved in-house to "get under the skin" of business and take a more pivotal role in creating business strategy and culture.
What do you see as the next big challenge for Customer Data Science?
"Privacy and data protection issues are globally pervasive and the regulatory regime, especially in Europe, is getting tougher. We have to rise to this challenge as an industry, which means that compliance is in the spotlight as never before. Done well, I believe there is a huge commercial opportunity in this: when we truly put the customer at the heart of our decision making that means we treat their data with the respect it deserves, and use it to provide tangible value back to the consumer."
Qualifications
BSc, Geography, Durham University
PGDL & LPC, College of Law, London
Ready to get started?
Get in touch and discover how we can help you succeed by putting your customers first.
Contact us